Enter the dragon
China Reform and Opening – Forty Years in Perspective
Enter the dragon
Editor's note:Laurence Brahm, first came to China as a fresh university exchange student from the US in 1981 and he has spent much of the past three and a half decades living and working in the country. He has been a lawyer, a writer, and now he is Founding Director of Himalayan Consensus and a Senior International Fellow at the Center for China and Globalization.
He has captured his own story and the nation's journey in China Reform and Opening – Forty Years in Perspective. China Daily is running a series of articles every Thursday starting from May 24 that reveal the changes that have taken place in the country in the past four decades. Keep track of the story by following us.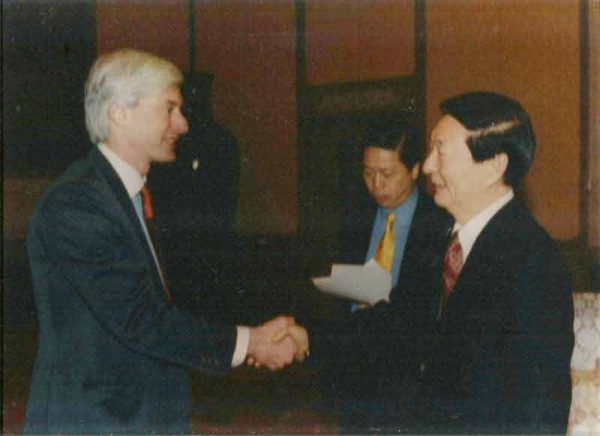 In January 1999, Beijing experienced its coldest days of the year. Sharp Mongolian winds blow away December clouds, bringing clear blue sky above the city. Bright sunlight cuts through the bare branches of the ginkgo and willow trees reflected in the pristine lakes of Zhongnanhai, the compound of ancient imperial gardens. Once the retreat for China's emperors, the compound is now the power center of its government.
It was on such a cold January day in 1999 that US Federal Reserve Chairman Alan Greenspan came to China. State Council Premier Zhu Rongii was looking forward to the meeting, which was intended to be private, unofficial and unannounced. Zhu arranged to receive Greenspan in a beautiful Chinese pavilion within Zhongnanhai. As Zhu received Greenspan, Central Bank governor Dai Xianglong sat immediately to the premier's left, listening carefully for messages that Greenspan might be bearing.
Their session started as these things do. Premier Zhu provided his guest with a review of China's economic situation for the previous year, the tragic destruction caused by flooding of the Yangtze River that year. Entire regions throughout the interior would have to be completely rebuilt. While this would be a burdensome task for the government, in Zhu's mind it also signaled an opportunity to rebuild infrastructure and outdated, poorly planned urban areas. Zhu also discussed a matter that was of more immediate concern to Greenspan - the continued pressures that China was experiencing from the Asian financial crisis.
Greenspan was widely viewed as the principal architect of America's phenomenal growth boom under the Clinton administration, of which the Asian financial crisis formed the keystone. Without question, the crisis had the effect of drawing funds away from Asia, fueling unprecedented growth in the dot-com bubble on the NASDAQ. Driven purely by excess money supply, the perceived wealth generated by stock options and a credit-fueled consumer growth had been a critical factor in propping up the Clinton administration.
Greenspan predicted due to the Asian financial crisis, there was continued anticipation in the West that China would be the next to fall in the domino collapse of regional currencies. Zhu was adamant, however. "The Renminbi will remain stable," he told his guest. China had made, and would continue to make, "a great contribution to Asia and the world's economic development".
Zhu's message was very clear: by not devaluing the Renminbi, China had been responsible in supporting Asia. He made it clear, too, that their two nations should "emphasize and increase cooperation on the financial front". If the effects of crisis were to be minimized, action would have to be taken on the other side of the Pacific, too.
The official meeting between Greenspan and Zhu was followed by further private discussions between Dai Xianglong and Greenspan. The central bank governor indicated to Greenspan that China would be closely monitoring and controlling "short-term capital flows" and requested that "America actively play a role". Dai's message to Greenspan was clear. America should control some of its fund managers. Repeated attacks on the Hong Kong dollar were, in the view of some Chinese officials, politically motivated, mainly with a view to destabilizing Hong Kong and drawing China's reserves out to support the Hong Kong dollar.
Greenspan, however, had a different agenda. He argued, WTO membership would create new jobs in the wake of the closures of State-owned enterprises.
Zhu picked up on Greenspan's message. Although accession to the WTO would undoubtedly force fierce competition on China's domestic industries, it would also create a plethora of new jobs. In the critical second year of Zhu's three-year program to reform the State-owned enterprises, the WTO option offered a way out of a serious dilemma - how to create new job opportunities to compensate for factory closures. After pensively weighing the considerations, Premier Zhu said, "I think that WTO is good for China and for the US and for trade, and I want to move [on] this as quickly as possible." The rest is history that we are living today. Ironically, Beijing is now promoting WTO and global market integration, while Washington is rejecting it. Times have really changed.

Please click here to read previous articles.
Most Viewed in 24 Hours
China stories