HK campuses must not tolerate the impermissible: China Daily editorial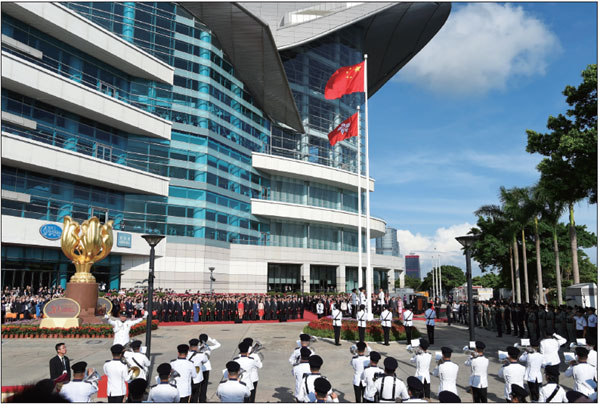 Hong Kong separatists reared their heads on university campuses again in the past week, one year after separatist banners on the campus of the Chinese University of Hong Kong provoked widespread condemnation in the special administrative region last September.
Carrie Lam Cheng Yuet-ngor, chief executive of the Hong Kong Special Administrative Region, condemned the student union leaders at some local universities after they greeted their teachers and fellow students on the first day of the new academic year with speeches filled with separatist references.
Attacking those using the university events as a platform to promote an "absurd" idea, she said that those advocating independence were violating the Basic Law and that anything "that impacts the basic policy direction of 'one country, two systems' or the 'bottom line' mentioned by President Xi Jinping on July 1 last year — we will not tolerate", referring to the red line he drew for relations between the mainland and Hong Kong at a gathering to celebrate the 20th anniversary of Hong Kong's return to the motherland.
Any attempt to endanger national sovereignty and security, challenge the power of the central government and the authority of the Basic Law crosses a red line, and is "absolutely impermissible", he said.
On Wednesday, Deputy Director of the Hong Kong and Macao Affairs Office of the State Council Huang Liuquan reemphasized the central government's zero-tolerance stance toward Hong Kong separatism.
Two decades after Hong Kong's return to the motherland and the establishment of the Hong Kong Special Administrative Region, no one should have any doubt about the constitutional reality of Hong Kong — separatism is simply a non-issue in any rational discussion.
That campuses have been repeatedly exploited by attention seekers raising banners for "independence" is unfair on the majority of students, who expect them to be places of study and research.
University administrators, while they may not wish to be considered to be using a heavy hand, should take effective measures to stop any advocacy of separatism on campus as they have a duty to uphold the Basic Law and create an environment for learning.
Freedom of speech should be respected. But it should not be allowed to be abused.
Today's Top News
Editor's picks
Most Viewed