China's plan to import more non-resource African goods excites Nigerians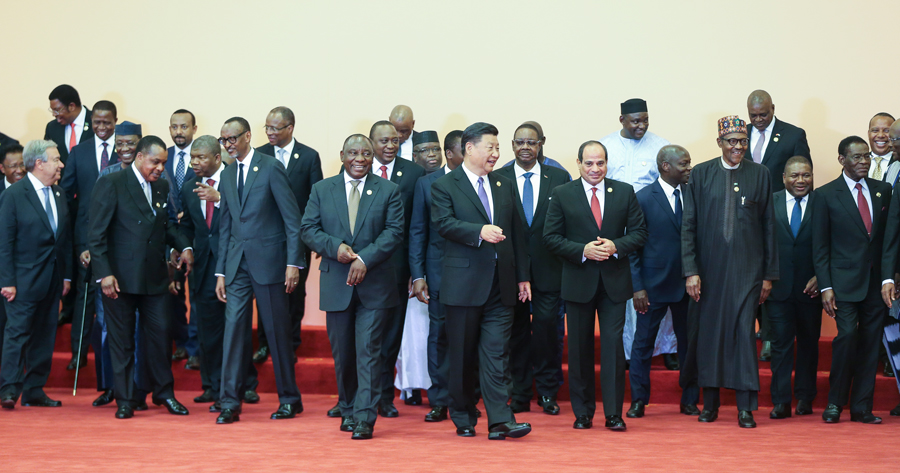 While they cherish the benefits of finished goods exports, the resolve to also monitor usage of facilities is welcome idea as the want more loans to private investors.
The announcement of President Xi Jinping of China in his keynote speech to open the Forum on China Africa Cooperation (FOCAC) 2018 in Beijing that China would increase her import of African products, especially non-resource or finished goods is a welcome development to Nigerian experts.
President Xi had stated in the new eight-point objective the FOCAC plans to pursue in the next three years among other things that China would encourage the economic development of African countries by importing more commodities from the continent, and most of it would be finished or non-resource commodities.
Through that resolve, the trade imbalance between China and Africa which is logically in favour of China due to her higher industrial production capacity would be narrowed down.
Obi Ezeude, a major manufacturer and industrialist and member of the Nigerian Industrial Council says it's a great step for good.
Ezeude, a keen follower of Chinese economy said he was happy that Nigeria's President Muhammadu Buhari was at the event and urged that the government of Nigeria keys into the policy and creates the opportunities for Nigerian businesspeople to benefit from it because it will facilitate investment and manufacturing partnership between African and Chinese manufacturers, thereby making it possible for Chinese businesspersons to set up industries in Africa.
"I think that announcement excites me. China is far ahead of Nigeria in manufacturing and the trade imbalance has been heavily in favour of China and we all understand because you should first have products before they are bought or sold. We can only close that gap when we manufacture and process. The policy if implemented would enable Africa add value to her raw materials and also create jobs and expertise while also opening markets for China to sell her industrial hardware and also create offshore production opportunities,"
As we spoke with an engineer and marketing expert, Mr. Barry Uba, he said if the policy is followed through, it is an assured way China would more than before encourage industrial production in Africa and reduce the heavy export of raw materials from the continent into China for processing.
"If that is done, it means China has beyond doubt resolved to assist Africa industrialize. Again, we can't just attain industrialization without a market to consume the products or the technical capacity. On that note, Nigeria and Africa would still rely on China for assistance by moving her production base to Africa.
We are aware that China battles overcapacity in so many products and if that continues unchecked, it will lead to redundancy as many producers would get out of business. But Africa is still a barren place that needs to come up, so with the policy in place, it means many Chinese manufacturers would move their production to Africa. That will have multiple benefits of industrializing Africa, creating wealth and eliminating poverty and also encourage manpower development among Africans. That is what true friendship and cooperation means and I praise China for such deep sense of assistance."
He challenged the Nigerian and African governments on the need to play their role and provide the basic infrastructure for such policy of industrialization to succeed and make the export of finished products to China possible and profitable to both sides.
A Nigerian journalist and editor, Chuwkwudi Uchegbu said his interest is mainly the promise by President Xi that China would not only provide funding of $60b for the period but further monitor to see that utilization is assured. "It is not enough to provide fund for governments that have not been so strong in implementation and utilization of resources and this is common in African countries.
"So, China should further take steps to ensure monitoring of utilization as promised and ensure prudence. But I would further advise that China focuses more in financing production by extending facilities to the private sector players. Let the credits and other assistances be to businesspersons and not governments. Because businesses are out for profit, they are proven better managers and loans given to them have better assurance of utilization and creation of further resources and elimination of poverty."