Common voice heard at gathering, Xi says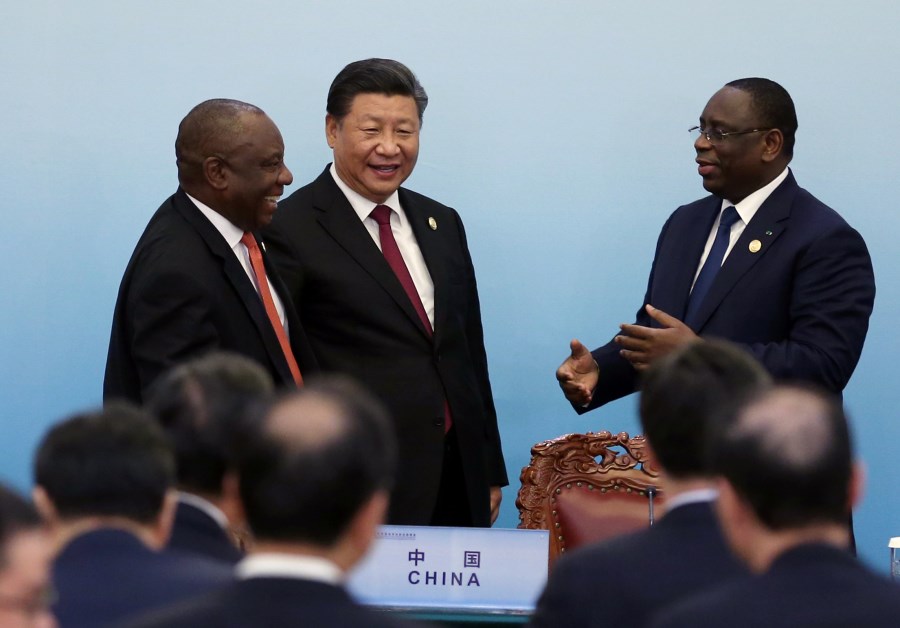 The 2018 Beijing Summit of the Forum on China-Africa Cooperation has opened a new chapter for China-Africa relations and sets up a monumental model for a new era in South-South cooperation, President Xi Jinping said on Tuesday.
Xi said at a joint news conference with South African President Cyril Ramaphosa and Senegalese President Macky Sall that China, along with African leaders, have reached consensus on all important issues and speak with a common voice.
FOCAC has become a banner for international cooperation with Africa and South-South cooperation and pushed forward the China-Africa comprehensive strategic and cooperative partnership to a historic new level, Xi said.
"We should work together to make the forum stronger and more pragmatic, implement the outcomes of the Beijing Summit efficiently and across the board, and benefit the people of China and Africa with solid outcomes," he said.
Xi said he hopes there will be greater synergy between international cooperative partners to make joint contributions to peace and development in Africa.
"During cooperation with Africa, the international community should respect the sovereignty of Africa, listen to Africa's opinions, value Africa's proposals and live up to their promises," he said.
Ramaphosa, who co-chaired the summit, said that it is always heartening to witness the spirit of cooperation at the event, which underlines the deep bonds of friendship and mutual understanding between the Chinese and African peoples.
Ramaphosa said that he expects the eight major initiatives unveiled by China to bring tangible benefits to Africans.
The South African leader added that the leaders in attendance also agree that fruitful relations between governments of China and Africa should be extended to citizens from both sides, and there is therefore a need to encourage people-to-people exchanges in areas such as tourism.
Senegalese President Macky Sall, whose country is taking over from South Africa as the new co-chair of the forum, said at the press conference that he is more than pleased to work with Xi to continue with the endeavor of China-Africa cooperation.
He said that looking ahead, areas of cooperation between China and Africa will be broader, and the private sectors from both sides will also play bigger roles.
China and Africa should always support each other, and that is an important part of building a community with a shared future for China and Africa, the Senegalese president said.
"I am willing to conduct my work based on the above principles and enable more outcomes to be achieved from the forum," he said.