West wrongly blames China for continent's woes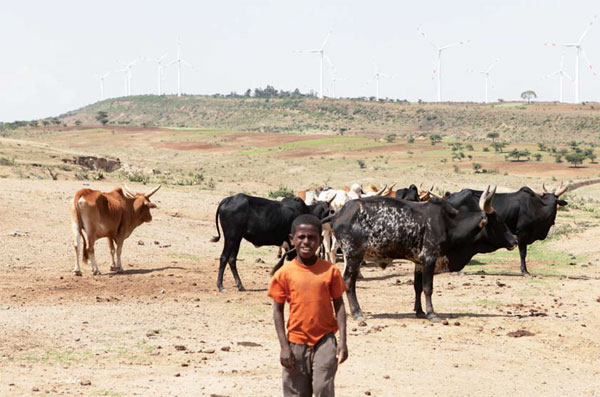 Although China has economic interests in Africa, it is trading fairly with the African countries and helping them to develop a continent-wide transportation network, while also building schools, medical and sports facilities, and cultural institutions. Equally importantly, China has been making great efforts to help protect Africa's environment.
It is because of these achievements that China is gaining in popularity in Africa. According to a 2017 Pew Research Center Poll, for instance, 63 percent of Tanzanians viewed China positively with only 15 percent having negative opinions about it, while in the most populous African country, Nigeria, the ratio was 72-13 percent.
Or take, as another example, what leading Ugandan opposition activist Arthur Tewungwa has written in a report: "The West's criticism of the impact of China's growing economic engagement has taken a predictable twist. Instead of human rights, they have chosen the environment as a stick to beat China on the head with. Actually, the Chinese have gone as far as banning the sale of ivory (while the US and the UK are yet to impose a complete ban on the sale of ivory) … The West has always been reluctant to transfer technology and 'knowhow' … in direct contrast to the Chinese whose environmentally friendly solar lamps and panels are fast becoming a norm in the rural areas of Africa. What China does in Africa is in stark contrast to the gleaming military hardware and advisers from the West, in some cases used to suppress populations on behalf of Western interests, while always doing damage to the environment with every explosion."
This clearly shows China is trying to help protect Africa's environment. But China is doing much more than that. Last month, the Interim Secretariat to manage the China-Africa Environmental Cooperation Center was established at the United Nations Office in Nairobi, Kenya.
And a Xinhua News Agency report on Aug 18 said: Joyce Msuya, deputy executive director of the United Nations Environment Programme, said the China-Africa environment cooperation center, when operational, will revitalize inclusive and green growth in Africa. "The center is a platform for South-South cooperation to protect our environment and boost China-Africa cooperation," Msuya said, adding that the center will boost Africa's quest for economic prosperity that is ecologically sensitive.
Chinese academia (universities and individual scientists) are also getting deeply involved in "green" cooperation between China and the African continent. The framework for such cooperation was defined by scientists from leading institutions in China and Africa during the landmark conference on "South-South scientific cooperation between China and Africa" in Nairobi on Sept 4-5, 2017. There, participants agreed on a "holistic view to address (the) impact of climate change".
In Africa, as in many other places, the environmental tasks are monumental, but so is the determination of China to help the continent (and other parts of the world) protect the environment, in a healthy and holistic manner.
The author is a documentary film producer.
Most Viewed in 24 Hours
China stories