Student discovers China at old imperial park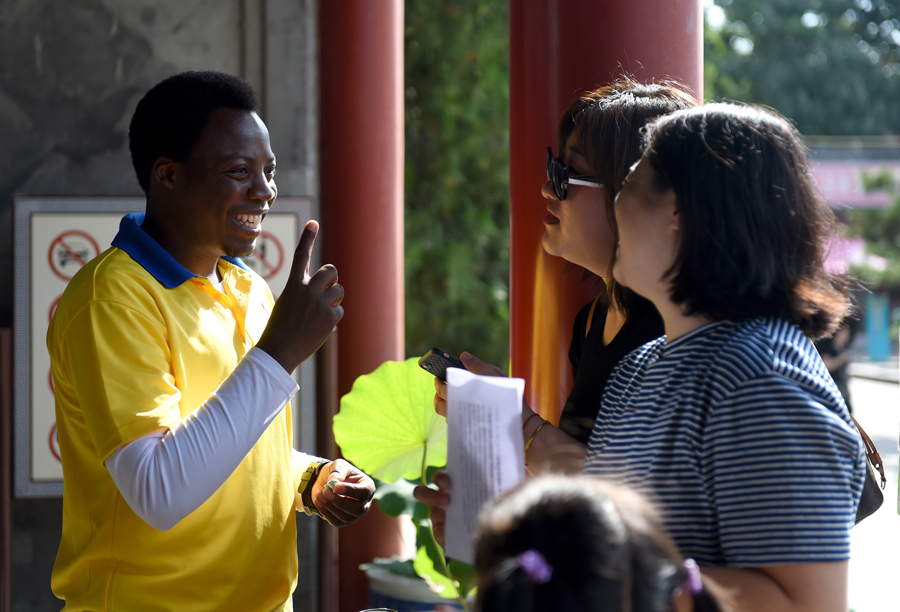 Irivuzimana Felicien smiled as he helped an elderly woman retrieve an electronic ticket on her smartphone to enter one of Beijing's most-visited imperial ruins-Yuanmingyuan, also known as the Old Summer Palace-in the northwestern outskirts of the capital on Monday.
The volunteer ticket collector held the electronic gate open as the woman slowly passed.
Though what he can say in Chinese is limited to simple words such as ni hao, "hello", and xie xie, "thank you", it doesn't prevent the 29-year-old Rwandan graduate student from providing heartwarming services to large numbers of visitors who throng the imperial garden.
"Simple as my work is, I have learned a lot about Chinese culture and the history of this royal garden," said Felicien, who is now pursuing a master's degree in electrical engineering at Beijing Jiaotong University.
Felicien is one of around 20 African students who help out as ticket collectors or tour guides at the cultural heritage site during summer college vacation. According to the park, this year is the first time African volunteers have worked there.
Construction of Yuanmingyuan began in 1707 and continued for more than a century. It is often referred to as "the garden of gardens" for its beauty during its prime, with lush landscapes dotted with numerous temples, palaces and pavilions. Its 350 hectares is about five times the footprint of the Forbidden City in central Beijing.
Besides functioning as an imperial resort, Yuanmingyuan was also a place where four Qing emperors (Qianlong, Jiaqing, Daoguang and Xianfeng) often handled affairs of state until 1860, when the place, which had only aesthetic and cultural value, was destroyed in an act of revenge by invading Anglo-French expeditionary forces during the Second Opium War (1856-60).
With his fellow volunteers, Felicien was taught about the garden's history and acquired enough Chinese to perform his job before beginning the field work. He has been working from 8:40 am to 3:30 pm at the park's south gate for almost a month.
Though Felicien receives no pay-other than a free lunch and reimbursement for his commuting expenses-he described the experience as rewarding because it has taught him about the moral values of the Chinese people and their love of the country's culture and history.
Felicien said he has observed respect for the elderly by many tourists, such as allowing them to pass first or having patience for a group even though they may be slow. That's a cultural lesson one cannot learn by sitting in a classroom, he said.
"China has given value to such sites through construction and allowing people to visit. That is a lesson Rwanda can learn from," he said, adding that most African countries have gone through a colonial period, as China had done.
Founded in July last year, the park's volunteer office has recruited some 750 people to serve. More than half are students, 24 of whom come from overseas.