How the BRI will benefit Australia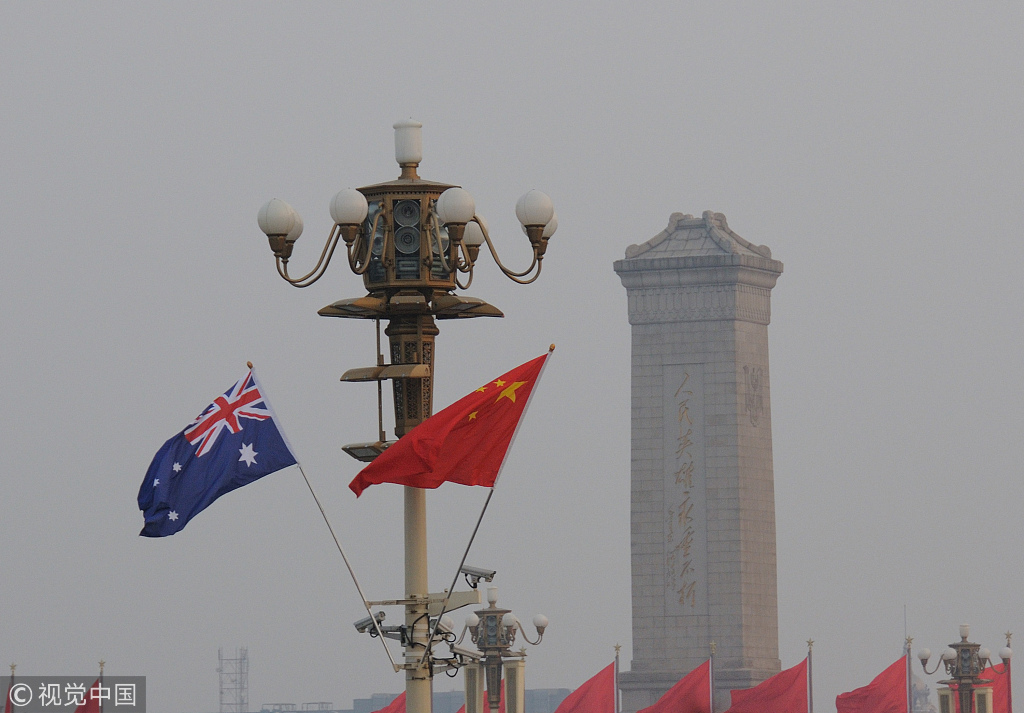 The Asian Century will be a mighty and glorious historical phenomenon; it signifies the rise of the common people constituting half of the world's population through elimination of hunger, alleviation of poverty and greater equality, as well as the prospect of greater economic prosperity that will benefit the whole world.
I still recall my earlier childhood in China before immigrating with my parents to Sydney, where I completed my first four years of primary school education coinciding with Deng Xiao-ping's opening of the Chinese economy. Little did I know back then in the early 1980s that China will become one of the world's largest economies, contributing to over 30 percent of global economic growth. After hearing the news about China joining the WTO, when I was studying high school economics in Sydney, I cried tears of joy knowing that my birth country has finally being granted the long-deserved opportunity to make this world a better place. China has inspired me to provide the same degree of determination to contribute to my new home in Australia; I wanted to show my Australian friends what it means to feel joy through helping others and the righteous rewards through win-win situations; all of which are attributive to Chinese characteristics.
It is through China's success in stimulating the international economy that has opened my eyes to the significance and righteousness of China's Belt and Road Initiative in the glorifying Asian Century. China plays a critical role in the advancement of the Asian Century; BRI will excerpt the full might of its innovative and adaptive labour force to drive ongoing productivity and technological improvements. The strength of the Chinese economy will provide assurance to the insurmountable foundations required to steer the Asian economic vessel onto prosperous and sustainable development directions. Furthermore, through BRI, the whole world will gain a better understanding and appreciation of the beauty, strength and passion of the Chinese people.
Australia's economic future is heavily dependent on its success in the international trade arena; the modernised and powerful Chinese economy presents the biggest and best development opportunities for the Australian people. The BRI will pave the critical foundations required for the next 100 years of increasingly advanced development opportunities between the two countries; there is a strong possibility of doubling Australia's GDP by 2040 through strategic and cooperative engagements in BRI. International trade has always been a major economic component of the Australian economy, together with its complimentary services sector; these two major economic components now account for over 60 percent of Australia's GDP. China is Australia's largest trading partner, the total trade volume between China and Australia is currently more than double the combined trade volume of Australia's next two largest trading partners (Japan and the United States).
More significantly is the fact that Australia holds a healthy trade surplus with China, this net-surplus is growing to almost 1 percent of its national GDP, which is one of the best achievements amongst all of world's advanced economies. Australia also holds the world record of maintaining over three decades of economic growth, a large part of this amazing achievement comes from Australia's fruitful economic relationship with China.
However, the Australian economy is facing a myriad of turbulence factors in the coming decade, mainly due to the strength of the US dollar, the US Federal Reserve's interest rate decisions and Australia's heavy reliance on funding sources from the United States. Anomalies in Australia's financial services and banking sector can quickly trickle down to negative impacts on the working class, with the Reserve Bank of Australia pressured into a "Do Nothing" microeconomic mentality to avoid a major economic crisis; potentially triggered by housing sector downturn, stagnating wage growth and rapid rising cost of living.
The Belt and Road Initiative can introduce healthy competition into Australia's financial services and banking sector, provide more cost efficient and higher quality infrastructure project deliveries, offer lower cost and superior quality consumer products, as well as over 5,000 years of history and cultural learning opportunities for the people of Australia. A potential development scenario to kick-start Australia's involvement in BRI is to combine an investment portfolio of high-speed rail transportation network along Australia's East Coast (stretching from Melbourne to Darwin, passing through Sydney and Brisbane), initiate a handful of smart city development projects similar to the "Australian Education City" scenario to be constructed along the routes of the high-speed rail network, major expansion of Australia's agricultural industry along with desalination plants for water supply and renewable energy farms for electrical power supply, enhanced bilateral education and tourism programs, as well as entry of China's major financial services and banking institutions to provide positive stimulation.
Australia's participation in BRI will endeavour beyond the win-win scenario, it will create an inclusive intergenerational business landscape and cultural exchange domain for the future generations of both great nations.
George Guan is managing director of Jesage PTY Ltd, Australia.
The opinions expressed here are those of the writer and do not represent the views of China Daily and China Daily website.
Most Viewed in 24 Hours
China Views