JD.com CEO returns to China after incident in US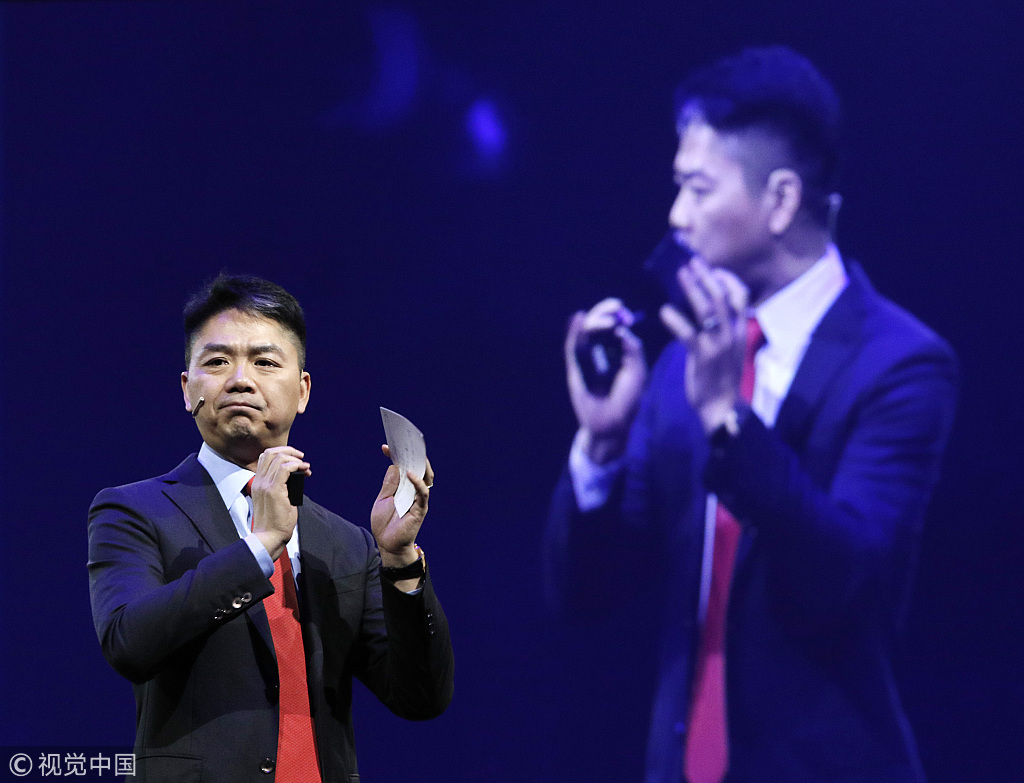 Chinese e-commerce giant JD said on Monday its founder and CEO, Liu Qiangdong, has returned to China and resumed normal work after he was arrested in Minneapolis, in the United States, on suspicion of criminal sexual conduct and later released without any charges or bail.
China's Foreign Ministry said on Monday it was looking into the circumstances surrounding the arrest of a Chinese citizen in the United States on suspicion of criminal sexual conduct.
Foreign Ministry spokeswoman Hua Chunying said at a news conference that the Chinese Consulate in Chicago was "closely following the relevant situation" and trying to verify facts regarding the situation.
JD's American depositary receipts (ADR) traded at Frankfurt, Germany slumped 4.69 percent to 25.63 Euros ($29.70) after the market opened on Monday. The US stock market is closed on Monday for the Labor Day holiday.
The company said in a Sunday statement on the Chinese social media site Weibo that Liu was falsely accused of sexual misconduct while in the US on a business trip.
It said local police found no misconduct and that Liu would continue his trip as planned. "We will take necessary legal action against false reporting or rumors," the company said.
Jail records from Hennepin County, where Minneapolis is the county seat, show Liu was arrested at 11:32 pm on Friday, local time, and released pending investigation at 4 pm Saturday, pending possible criminal charges. The jail records don't provide details of the alleged incident.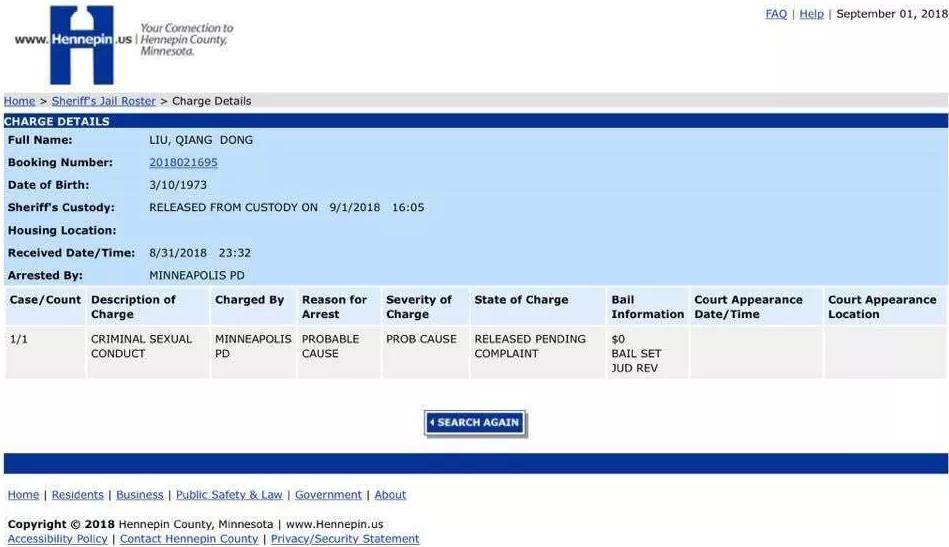 Minneapolis police spokesman John Elder said he couldn't provide any details because the investigation is considered active. He declined to say where in Minneapolis Liu was arrested or what Liu was accused of doing, according to a report by the Associated Press.
The University of Minnesota said Liu was a student in its doctor of business administration program, primarily held in Beijing in partnership with Tsinghua University and aimed at full-time executives. Students were in the Twin Cities last week as part of their training, Reuters reported.
Chinese social media was abuzz over the arrest, with Liu's arrest in the US as the most discussed topic on China's Weibo platform on Monday morning.
JD is China's second-largest e-commerce company and a major rival of Alibaba Group Holding Ltd. Its investors include Chinese tech heavyweight Tencent Holdings Ltd and US retailer Walmart Inc.
The company reported its net income amounted to 122.3 billion yuan ($17.9 billion) in the second quarter of the year, an increase of 31.2 percent year-on-year, while its net profits dropped to 478.1 million yuan, down 51.04 percent compared in the same period last year.