Together on the road to success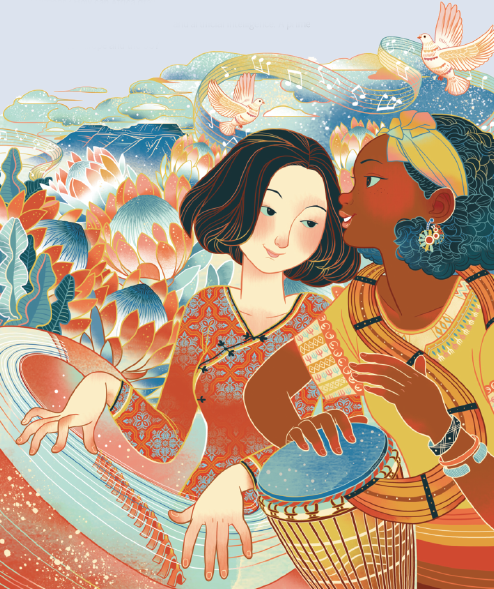 As the Forum on China-Africa Cooperation meets in Beijing, four experts answer questions on the China-Africa relationship and look at ways various issues can be tackled.
Q1: The China-Africa economic relationship has been on a continuous upswing this century. That relationship has included generous amounts of aid, vast support for major infrastructure projects, building of industrial and agricultural parks, technology transfers and personnel training. Will this trend continue? Is it sustainable? Is there another model for collaboration? Overall, what direction will the relationship take in coming years?
Q2: China is testament to the fact that infrastructure is both a prerequisite and a force multiplier for economic growth. Africa, despite some notable successes-many with Chinese collaboration-is grappling to fill the infrastructure deficit to reach its potential.
What are the obstacles? What are the solutions? How can Africa draw on China's success? Apart from China-Africa collaboration, are there possibilities involving other parties such as Europe and the US?
Q3: Since many African countries gained independence they have focused on agriculture with mixed results. The continent's food sufficiency rate was 96 percent during 1962-64; and 83 percent during 1972-74. But severe drought in the 1970s brought this rate down to 60-70 percent in the 1980s, and 50 percent in the 1990s. The United Nations Food and Agriculture Organization says that from 2014 to 2016 the percentage of people in sub-Saharan Africa affected by severe food insecurity was the highest in the world, at about 30 percent. What can be done to raise food production levels? How can China and the world help?
Q4: There has been much talk about Africa becoming the next China in manufacturing as the latter moves up the global value chain and focuses more on services, IT and artificial intelligence. A prime example is a joint venture industrial park near Addis Ababa in which the shoemaker Huajian is the poster child. But Africa would need dozens of giant industrial parks if the economy is to shift to manufacturing as one of the engines of growth. What policies, plans and incentives are needed to build industries that meet domestic demand and aim to export? How can countries draw on the success of Chinese special economic zones and industrial parks?
Q5: China's trade with Africa has grown phenomenally over the past 40 years, rising from $765 million to $170 billion last year. What more can be done to raise the figure? How can exports and imports diverge from the current pattern? How can e-commerce be an accelerator in bilateral trade?
A1: For many years China's strategy for commercial engagement with Africa focused on infrastructure investments. While this model has been the centerpiece, people have paid too much attention to infrastructure investments, meaning other trends have gone largely unnoticed. For example, more and more large Chinese technology companies such as Huawei are investing in Africa, and several small and medium-sized enterprises are expanding their presence on the continent. Thus, while the trend of infrastructure development will continue to expand, it will do so alongside broader corporate investments in other sectors.
A2: A greater concern is rising debt levels on the continent. China has long been a quick and easy lender for African countries.
There is growing competition for infrastructure projects in Africa. Countries such as Turkey, France and South Korea, among others, are seeking to compete with Chinese firms for infrastructure contracts.
In terms of potential collaboration, there is room for three-way partnerships between African firms, Chinese corporations and global technology companies.
A3: Generally, low agricultural yields in Africa are due to a lack of adequate irrigation infrastructure or a lack of fertilizer. US and Chinese companies, as well as their respective governments, can collaborate to increase productivity in African agriculture. China has had a lot of experience in improving productivity in, for example, wheat crops, while the US has long held a competitive advantage in agribusiness.
Finding a way to increase productivity through technological advancement is also a great area for collaboration. There are many new firms that have developed apps that convey valuable information to farmers working to employ modern agricultural techniques, monitor the weather, effectively use new farming equipment, assess prices, source goods such as fertilizer, and more.
A4: Successful industrial parks require three things: policy certainty, good infrastructure to support continued operations, and finally, a good anchor tenant. This tenant will be there for the long term and will be so successful that it manages to bring in other companies that also stay there for the long term.
All industrial parks will have challenges at some point. With manufacturing in Africa, questions over labor relations such as minimum wages and so on will no doubt arise, matters that commonly crop up with the development of large industrial zones.
A5: Many African governments would like to see China buying more products made in Africa and increasing imports of finished products that have been made on the continent.
So African governments would like to see a change in the nature of trade with China, and not just to be an exporter of primary resources. They would be interested in seeing if Chinese companies would help them develop the capacity to refine resources in-country, adding value to those resources in doing so.
Aubrey Hruby, a senior fellow at the Africa Center at the Atlantic Council, Washington
Most Viewed in 24 Hours
China stories