How China has made a mark in Africa
Share - WeChat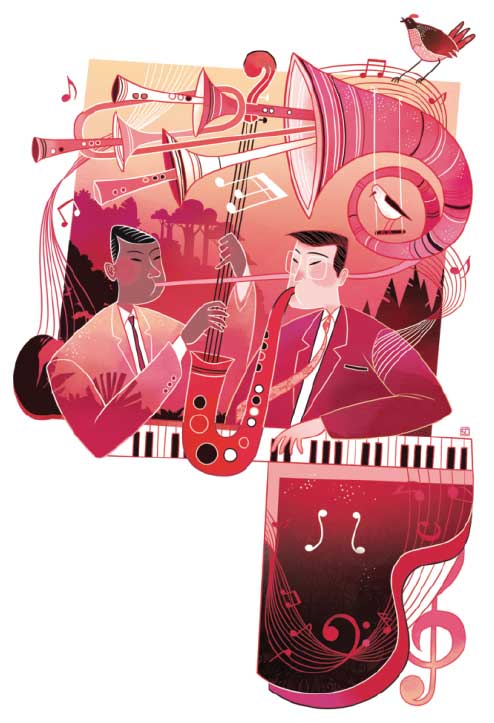 Beijing has adopted an approach of mutual interest, respect and equality without interfering in the affairs of others
In his 1996 speech entitled "Toward a New Historical Step for Sino-African Friendship" at the headquarters of the Organization of African Unity, then Chinese president Jiang Zemin put forward a five-point proposal on developing a long-term and stable relationship between China and Africa for the 21st century. The key components of the proposal were sincere friendship, treating each other on an equal footing, solidarity and cooperation, common development and a future-oriented relationship.
China has faithfully implemented this proposal in Africa. China's aid is not tied to political conditions, nor does it force Africans to do something they do not want, and it does not make empty promises. As we learned from John-Paul Sartre: "We are not what we say, but what we do." So, the reason for Sino-African convergence is what China does.
What matters most to us is, how has China reached Africa? How has China, with all geographic factors separating it from Africa, managed to achieve all this success and made its presence in the continent a remarkable phenomenon?
To answer this fundamental question, we need to understand the foundations of the relationship between China and Africa. I say this is due to soft diplomacy, because it is not based on armed force but on culture, political values and economic and diplomatic relations, according to Harvard professor Joseph Samuel Nye, in his book The Rise of China's Soft Power. The idea of "soft change" adopted by China in Africa after the founding of the People's Republic of China in 1949, is a very effective way of creating benefits for Africa and China; and on the fact that China was never an occupying power in Africa. China also does not interfere in the internal affairs of African countries, which increases the respect of African leaders and elites toward China.
There is no doubt that this rational human development policy has led to China's economic, political, military and cultural influence on our continent and around the world.
What China has achieved is represented by dynamic and active mechanisms. Trade between China and Africa increased more than 200-fold from $765 million in 1978 to $170 billion in 2017. In the first five months of 2018, China-Africa trade increased 17.7 percent year-on-year to about $82 billion. About 3,100 Chinese companies have invested in Africa on projects in transportation, energy, telecommunications, industrial zones, agricultural technology centers, water supply, schools and hospitals.
The establishment of infrastructure has become one of the priorities of China-Africa cooperation within the framework of the Belt and Road Initiative, covering areas such as railways, highways, ports and power generation.
In 2015, China announced 10 cooperation plans between China and Africa to help the continent accelerate industrialization and agricultural modernization. A $10 billion China-Africa capacity cooperation fund has also been set up to support projects such as economic zones and industrial zones.
Let us also see what Africa can offer China to demonstrate the need for each other. The African continent is made up of 54 countries, which represent the world's largest promising market with a population of more than 1.1 billion people, an area of 30 million square kilometers (20 percent of the world's land mass). The continent needs to build everything, so major global economic powers, including China, see it as a land of great potential. Markets on other continents are no longer able to stimulate the world economy because their investment and consumption are near saturation. The African continent, which is growing at an annual rate of 5.8 percent, has about 124 billion barrels of oil reserves, which account for about 12 percent of the world's reserves. Its natural gas reserves account for about 10 percent of the world's total reserves, with about 500 trillion cubic meters of natural gas reserves. Africa also has other natural and primary resources, producing about 90 percent of the world's platinum, 40 percent of its diamonds, 30 percent of uranium, 27 percent of cobalt, 9 percent of the iron ore; and 50 percent of the gold reserves.
Agriculture is one of the most important economic activities in Africa, thanks to the diversity of the climate and its abundance of rivers. Two-thirds of its people are engaged in agriculture. It is one of the largest sources of agricultural products such as coffee, cotton and cocoa. In addition to the massive fish stocks, Africa also has many forests, which produce large quantities of timber.
China has adopted an approach of mutual interest, respect and equality without interfering in the affairs of others. China has built 3,300 kilometers of roads, 30 hospitals, 50 schools and 100 power plants in more than 40 African countries, sending business people and doctors. It has sent about 1,600 doctors to rural areas.
In October 2000, China initiated the Forum on China-Africa Cooperation (FOCAC) to promote trade and investment relations in the public and private sectors, which put China-Africa economic relations on the fast track.
In 2012, the Fifth Ministerial Conference of the FOCAC in Beijing endorsed a plan of action for 2013-15, whereby African countries received concessional loans from China for $20 billion to develop agricultural and industrial infrastructure for self-development and sustainable development. The number of Chinese companies or their branches is estimated at more than 2,000 (700 in 2005), and they are active in agriculture, mining, construction and reconstruction, trade and investment, processing of resource products, manufacturing and commercial logistics. China has trained 30,000 Africans and provides 18,000 scholarships for African students; China bases its vision on the grounds that "cultural communication" is a guaranteed alternative to see the true face of China's ancient civilization, not as an economic power that comes to drain the resources of the continent.
The conclusion is that the 21st century has seen the rise of new powers on the world stage and the decline of traditional powers; and signs of "alternative globalization" that challenges Western influence and limits its power. In this context, China is emerging as a non-Western country that is rapidly advancing on the world stage, introducing alternative policies and practices, especially in development models. In the broader context, "alternative globalization" can be described as a set of values that establishes an alternative to existing practices, institutions, policies and resources. In this regard, we can note that since the founding of New China, Beijing's role at the global level has become increasingly important, driven by economic growth, industrial and technological development, and the mobilization of political, economic and cultural instruments for international recognition as a major force to serve the concept of "alternative globalization".
China's relationship with Africa has evolved over the course of more than 60 years to become more profound and powerful, turning into a distinct partnership that reflects China's growing influence in Africa, and provides a possible alternative to the influence of Western power structures and culture in Africa. China's flexible use of multilateral foreign policy tools-as I always repeat-from the use of political tools to the economy and culture has helped to cement the Chinese footprint in Africa.
The author is a former prime minister of Egypt.
Most Viewed in 24 Hours
China Views