Pledges on free trade restated to UN chief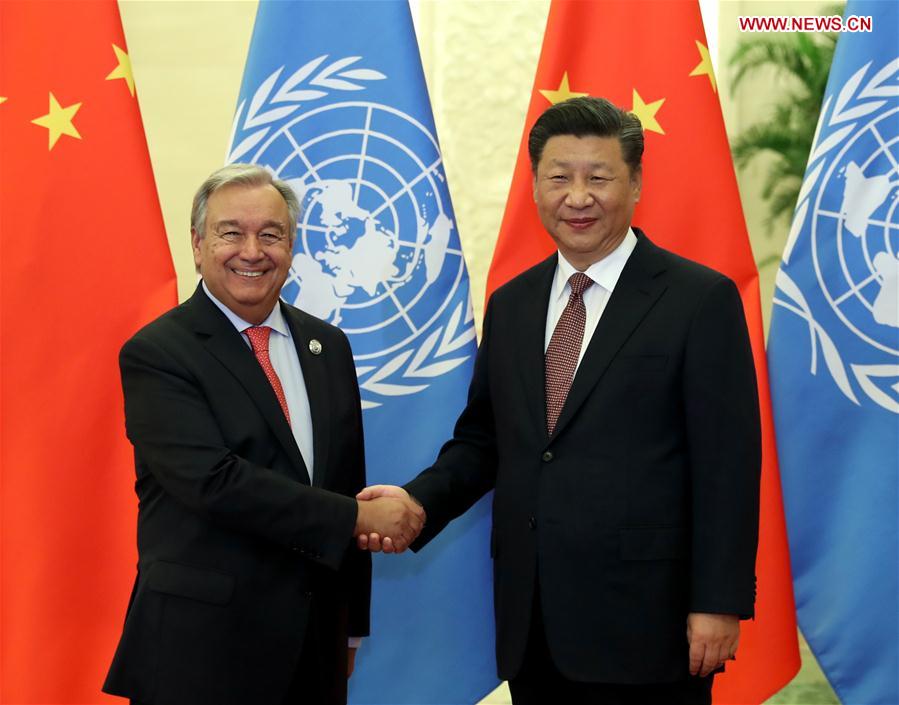 China's resolution to comprehensively deepen reforms will not waver, and all concerned parties will be encouraged to jointly maintain trade liberalization and facilitation to build an open world economy, President Xi Jinping said on Sunday.
Xi made the remark when meeting with United Nations Secretary-General Antonio Guterres ahead of the 2018 Beijing Summit of the Forum on China-Africa Cooperation starting on Monday.
The world needs multilateralism now more than ever, and a more powerful UN will help counter the rising trends of unilateralism and protectionism while helping stabilize global order, Xi said.
China expects the UN to play a guiding role in deepening international cooperation and addressing global challenges, he said.
The basics of multilateralism should be that international affairs should be handled based on rules agreed to by all, with consideration to the interests and concerns of all parties, he added.
The president also said that China never attaches political strings to China-Africa cooperation, and never seeks any privileged interest.
China will insist on conducting affairs that are good for African countries and their people, Xi said.
It is the obligation of the UN to help realize peace and development in Africa, he said, and the organization should continue to make it a top priority of its work, and support African countries to solve their problems in an African manner.
China is willing to strengthen communication and discussions with the UN over how to better support the continent, Xi added.
Guterres, who is in Beijing to attend the summit, said his participation in the event is aimed to show the UN's support for Africa and China-Africa cooperation.
China's development corresponds with the irresistible trend of the times, and it is of crucial importance for world peace and development, he said.
And the UN is willing to strengthen dialogue and cooperation with China and dedicate itself to the establishment of a multipolar rules-based world, Guterres added.