Bridge offers 'gateway to tomorrow'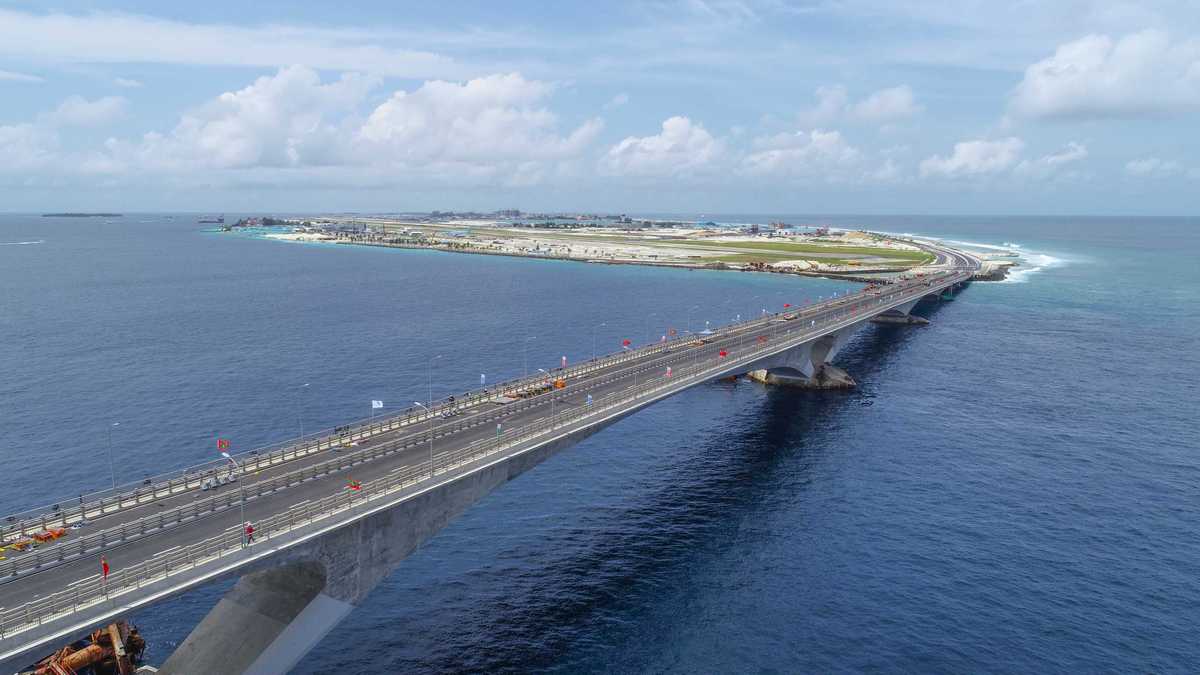 A cross-sea bridge built with Chinese aid which has been described as a "gateway to tomorrow" opened in the island nation of Maldives on Thursday.
"Today the impossible is possible," Maldives President Abdulla Yameen Abdul Gayyoom said while addressing an opening ceremony in the capital Male before leading vehicles over the China-Maldives Friendship Bridge linking its two most important islands.
He outlined how he and Chinese President Xi Jinping reached an agreement on the project during Xi's visit in September 2014.
Connecting the capital city with the airport island of Hulhule, the China-Maldives Friendship Bridge is a landmark for the 21st Century Maritime Silk Road under the Belt and Road Initiative, said Chinese government special envoy Wang Xiaotao.
"The bridge is also a new symbol of the continued friendship between the two peoples and a new start in bilateral relations," said Wang, also head of China's State International Development Cooperation Agency. China-Maldives cooperation will continue to serve the common interests of the two peoples, he said.
Yameen said such cooperation "will deliver more benefits to the people".
As a world-class tourist resort, Maldives is littered with islands scattered across the ocean, but traffic among the islands has been entirely dependent on ships and seaplanes.
Crossing the Gaadhoo Strait now is a six-span composite V-shaped rigid frame bridge totaling 2,000 meters.
With a designed service life span of 100 years, it was full of challenges during construction, said Cheng Duoyun, chief engineer of the bridge project from the China Communications Construction Company.
Moreover, Chinese builders, together with hundreds of foreign employees from countries including Maldives, Bangladesh, India, Pakistan and Sri Lanka, had to take special precautions for environmental protection and marine resource preservation in the turquoise waters.
"The project has achieved key technical breakthroughs as a pioneer in the construction of super-large bridges in deep and exposed ocean environments with a coral reef geology," said project leader Wang Chao.