Xi has individual talks with leaders
President assures counterparts of Beijing's friendship, support
Editor's note: President Xi Jinping met with a number of African leaders on Friday ahead of the 2018 Beijing Summit of the Forum on China-Africa Cooperation. Here are highlights of the bilateral talks.
Somalia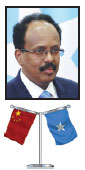 While meeting with Somali President Mohamed Abdullahi Mohamed, President Xi Jinping emphasized that China and Somalia enjoy a long history of friendship.
Somalia was the first East African country to establish diplomatic ties with China as well as one of the sponsors supporting the resumption of China's legitimate seat at the United Nations, Xi said.
China welcomes the progress that has been made in the peaceful reconstruction of Somalia, Xi said, adding that China will continue to support the Somali government in advancing the political process, promoting social reconciliation, improving governance as well as safeguarding sovereignty, security and territorial integrity.
He also called upon the two countries to strengthen cooperation within the framework of the Belt and Road Initiative, the Forum on China-Africa Cooperation and the China-Arab States Cooperation Forum.
The Somali president expressed his gratitude for China's help to his country and said he admires China's achievements in reform and opening-up. He said he hopes to learn from the country's development experience.
Somalia firmly adheres to the one-China policy and actively participates in building the Belt and Road, he said, adding that Somalia is willing to work with China to jointly build a community with a shared future for China and Africa under the framework of the forum.