FOCAC reaffirms Sino-Africa commitment to prosperity, global peace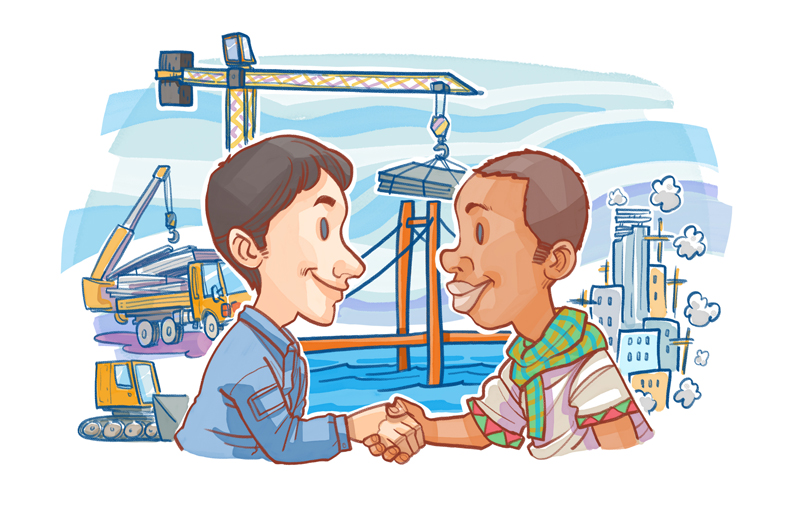 In a world where security issues have become more interconnected, countries and peoples from each corner of the earth have an increasingly vital role to play in building a community of lasting peace and universal security. In this regard, China has taken drastic measures to promote global peace and common prosperity through practical initiatives and solutions.
This year's Summit of the Forum on China-Africa Cooperation (FOCAC), themed "China and Africa: Toward an Even Stronger Community with a Shared Future through Win-Win Cooperation," in China's capital Beijing this week, is certainly another crucial opportunity to reiterate Sino-African commitment to common prosperity and global peace.
At the Seventh World Peace Forum, which took place in July at Tsinghua University, Yang Jiechi, director of the Office of the Foreign Affairs Commission of the CPC Central Committee, affirmed that China calls for a vision of common, cooperative, comprehensive and sustainable security, reflected in the principles of equality, mutual trust, cooperation for mutual benefit, equity and justice, reform and innovation, as well as sustainable development.
China's cooperation with African countries, based on the aforementioned principles, has allowed the continent to speed up its poverty reduction efforts. The three-year plan proposed by President Xi Jinping at the 2015 Johannesburg Summit of FOCAC, worth more than $60 billion, allowed improvements in the fields of industrialization, agriculture modernization, infrastructure, green growth, public health and security. More importantly, China has been engaged in peacekeeping operations in Africa, with clear benefits for the local populations.
According to UN data, China is today the largest contributor of peacekeepers among the permanent members of the United Nations Security Council. China has not only been an active member of UN peacekeeping operations, it has also sent more than 37,000 peacekeepers and participated in 24 UN peacekeeping operations since the 1990s. In February, China ended a 15-year peacekeeping mission in Liberia with outstanding results, highly praised by the UN as well as by Liberian leaders and its citizens.
In a recent interview on CGTN, UN Secretary-General Antonio Guterres affirmed that China's cooperation with Africa is a very important instrument for the development of the continent. Such development, he goes further to say, is not only aimed at economic cooperation but has strong implications for global development patterns, global governance and for a healthy development of economic globalization.
China has been working with Africa in full compliance with international laws and, under the leadership of President Xi, the country upheld the five principles of peaceful coexistence, respected the social system and development paths independently chosen by African countries while protecting their interests and listening to their concerns. Only with such a harmonious cooperation based on mutual respect, can global peace last longer, creating common prosperity that benefits the peoples of China and the world.
As many parts of the world are experiencing rising populism, China has constantly rejected the zero-sum mentality and has insured that cooperation is based on non-interference of internal affairs. Since the founding of the new China in 1949, and following its opening-up and reform 40 years ago, the country has actively contributed to global peace through different means.
China's efforts in achieving the Millennium Development Goals (MDGs) and the 2030 Agenda for Sustainable Development, through lifting around 800 million people out of poverty, which accounts for over 70 percent of poverty reduction worldwide, is the biggest and most important contribution to our humankind. Such efforts received solid approval and sincere admiration from the whole world, especially the African countries which seek to learn from the Chinese experience.
The Belt and Road Initiative, first proposed by President Xi Jinping in 2013, through a series of international infrastructural projects and development policies, allowed trade between China and other participating countries to exceed $5 trillion in cumulative years, creating more enhanced employment opportunities as well.
China has also provided a huge amount of assistance to other developing countries through concessional loans, technical, personnel and intellectual support, as well as projects benefiting directly local communities. China has, for example, provided rapid assistance in Ebola-affected areas in Africa.
The country has taken active part in seeking political settlement of international and regional hotspots, including playing a constructive role in addressing issues like the Korean nuclear issue, the Iranian nuclear issue, Syria, Afghanistan and the Middle East, while fully respecting the sovereignty of these countries.
Supported and actively participating in UN peacekeeping and other major operations is another major contribution to global peace. It also took active part in international cooperation against terrorism and piracy. It is important to note that this year the country also set up the China International Development Cooperation Agency to improve the country's foreign aid, as well as global development efforts.
Peace is about the respect of nations' diverse social systems and development paths, and it also is with peaceful interaction that countries can prosper economically and socially. No system is and can be universally applied as a model for other nations. On this point, China has successfully entered in an era where its own socio-political system has shown to be deeply successful and has allowed the nation to reach high levels of human development and technological innovation.
Sino-African cooperation in global peace and common prosperity has shown to the world that a community with a shared future through win-win cooperation is not only needed, but it is a necessity if we want to foster a more inclusive globalization that benefit all nations. The 2018 FOCAC serves certainly to reiterate Sino-African commitment to common prosperity and global peace.
The author is a graduate in China Studies and International Relations at Peking University and the London School of Economics. Currently, he is working in the fields of development and public policy.
The opinions expressed here are those of the writer and do not represent the views of China Daily and China Daily website.
Most Viewed in 24 Hours
China stories