Strengthening Sino-African poverty reduction through FOCAC, BRI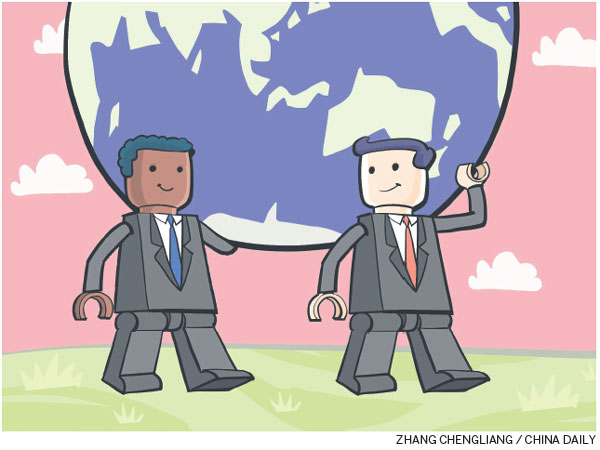 President Xi Jinping's recent trip to Africa didn't just strengthen Sino-African friendship. It also served to reiterate China's solid commitment to cooperate with African countries in the fields of development and poverty reduction. During the 2015 Johannesburg Summit of the Forum on China-Africa Cooperation (FOCAC), an action plan was already adopted that addressed, among various topics, the issue of poverty reduction.
China has succeeded in lifting around 800 million people out of poverty in only four decades and plans to eradicate poverty by 2020. These efforts in poverty reduction have been praised by the international community. Since the 18th National Congress of the Communist Party of China in 2012, under the leadership of General Secretary Xi Jinping, poverty reduction and improving people's livelihoods have become top national priorities.
In fact, according to the State Council Leading Group Office of Poverty Alleviation and Development, China's rural poor population has decreased from around 98.99 million in 2012 to 30.46 million in the end of 2017, a decrease of 68.53 million in total, which is an annual decrease of 13.7 million.
Furthermore, over the past years, the situation of Chinese poor rural areas has improved radically. In fact, according to statistics of the National Bureau, in 2017 the per capita disposable income of rural people in poor areas reached 9,377 yuan ($1,372), an increase of over 50 percent in comparison with that of 2013.
This highly successful story of poverty reduction has increasingly captured the interest of African countries, which hope to learn from China's experiences to help the over 400 million impoverished people on the continent to get out of poverty. They have expressed appreciation for Chinese-led initiatives, such as the establishment of the Assistance Fund for South-South Cooperation, which would facilitate the implementation of the 2030 Agenda for Sustainable Development in Africa.
The 2015 Johannesburg Action Plan development included knowledge sharing on poverty eradication strategies. Moreover, one of the biggest accomplishments was to reaffirm the continuous organization of the China-Africa Poverty Reduction and Development Conference and to endorse it as an official subforum under the framework of FOCAC.
The China-Africa Poverty Reduction and Development Conference is a yearly event, hosted by the State Council Leading Group Office of Poverty Alleviation and Development, and has in recent years allowed China and Africa to jointly explore poverty reduction policies and strategies, while gradually establishing a multilevel intergovernmental and intersociety dialogue platform for poverty reduction.
Since the 2015 Johannesburg Action Plan, China has hosted a variety of workshops on poverty eradication policies and practices tailored to the needs of African countries. This includes helping Africa to train personnel in the field of poverty reduction and development, carrying out small-scale demonstration projects at the village community level as well as launching joint research projects to provide technical support to African countries in their poverty reduction efforts.
Crucially important to Sino-African relations is cooperation in poverty reduction, as it is based on boosting confidence, cultivating human resources and dealing with urgent priorities such as food and clothing. Infrastructure development specifically for poverty reduction and people-oriented policies, such as improving public health systems and capacity building, are also vital areas for the two sides to work together in this regard.
This year's summit will focus on Sino-African cooperation within two main aspects, FOCAC and the Belt and Road Initiative. In recent trips to Africa, Zhou Yuxiao, China's ambassador for FOCAC affairs, mentioned the importance of synergizing the Belt and Road Initiative with the African Union's Agenda 2063 as well as with the United Nations' Agenda 2030 and the development plans of each African country.
FOCAC and the Belt and Road Initiative will be very significant for Africa to boost poverty reduction efforts and get further acquainted with China's accomplishments in poverty reduction. As the official forum between China and all African states, FOCAC has been taking place since 2000, including ministerial conferences and summits.
This year's FOCAC Summit will take place in Beijing in the beginning of September and will mark another milestone of Sino-African ties, which are based on the Five Major Pillars: equality and mutual trust, win-win cooperation, cultural exchanges, assistance in security and solidarity as well as cooperation in international affairs.
Through these guiding principles, China and the African continent will jointly develop a community with shared future for mankind, while fostering common development and win-win cooperation in the fields of poverty reduction, socio-economic exchanges as well as people-to-people ties.
The author is a graduate of China Studies and International Relations at Peking University and the London School of Economics. Currently, he is working in the fields of development and public policy.
Most Viewed in 24 Hours
China stories