Volunteers build appreciation for architectural heritage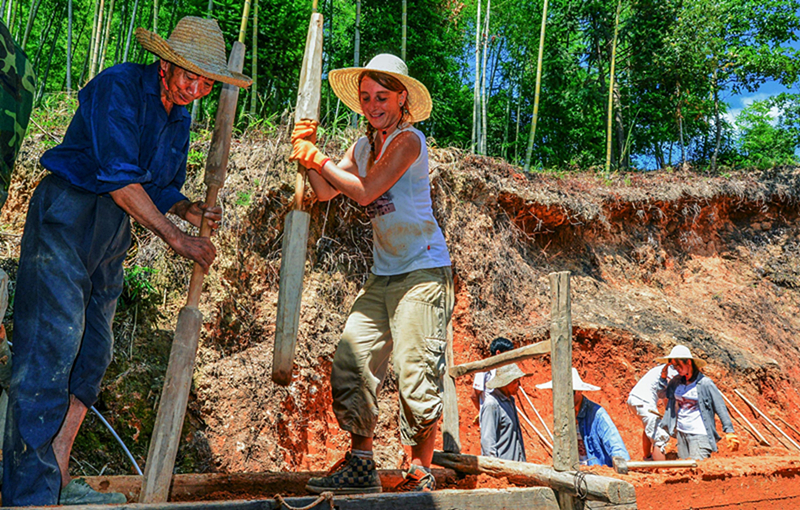 French archaeologist Emilie Lagneau spent her first two weeks in China repairing an ancient house in a remote mountain village in the eastern province of Fujian.
She was one of 16 volunteers-three French and 13 Chinese-who arrived for a two-week architectural heritage preservation work camp in Jiulong village, Nanping, on July 16.
The volunteers carried tiles and logs up the mountain to the two-story house, which has a wooden inner structure and rammed-earth outer walls. Under the guidance of three local craftsmen, they built a rammed earth wall to replace a rotten wooden beam.
Lagneau said the manual labor was not challenging after working as an archaeologist for 10 years.
"I'm interested in the old way to build houses with wood and mud," she said. "I wanted to have a trip in another country and to learn carpentry. Then I found this work camp online."
The work camp, co-organized by Shanghai's Ruan Yisan Heritage Foundation and Rempart, a French association focused on protecting relics, has been raising public awareness of architectural heritage conservation since 2011.
For eight years, the work camp has invited Chinese and French volunteers to repair heritage sites in the two countries, such as temples, former celebrity residences and city walls.
This year's camp was the first in Jiulong, where houses made of mud have been homes for more than 1,000 years.
Ding Feng, secretary-general of Ruan Yisan, said the old houses showed the traditional residential architecture of northern Fujian.
"In recent years, young and middle-aged people have left the village to seek job opportunities, leaving about 90 percent of these old houses vacant and unprotected," Ding said. "These houses will disappear in several years if not preserved."
Zhan Zhenfen, who taught the volunteers how to make rammed earth walls using raw materials such as earth, clay, gravel and straw, said the last time he did such work was in 1986.
"Villagers used to build these houses on their own," he said. "Now, people under 50 don't know the techniques."
In the 1980s, villagers began to move into brick or concrete houses with modern facilities, leaving many old ones abandoned.
More than 120 traditional houses still stand in Jiulong-two of them built 400 years ago, and another seven dating back 200 to 300 years.
Hu Xiaowen, a volunteer and interior designer, said she appreciated the way the traditional houses were built. The external walls make the houses cool in summer and warm in winter, plus the houses are strong, durable and eco-friendly, as they were made using local raw materials.
"There are some Chinese architects who are incorporating rammed-earth walls in modern construction, for the purpose of sustainability," Hu said.
Liu Chunlan, a volunteer who led the team in Jiulong, said the work also carries significance for local residents.
"Villagers used to think their hometown was a place left behind by modern development, but our arrival and labor can provide them with an outside perspective and let them see the value of the traditional architecture in their hometown," she said.
The villagers were curious about their repair work, and some even joined in, with many children eager to learn the techniques.
Wu Chunsheng, a local official, said the county government has been encouraging the villagers to repair their deserted houses to protect the local culture.
The county is also preparing to build a base for artists in the village to attract painters, photographers and sculptors to create works inspired by the idyllic rural scenery, as well as create more jobs for locals, Wu said.
After the work in Jiulong was completed, Lagneau and another French volunteer, Audrey Garrouste, headed to Shanxi province for another work camp, repairing a historical hall.
Lagneau said she was looking forward to learning more about traditional Chinese architecture.
Today's Top News
Editor's picks
Most Viewed