FOCAC reshaping China-Nigeria cooperation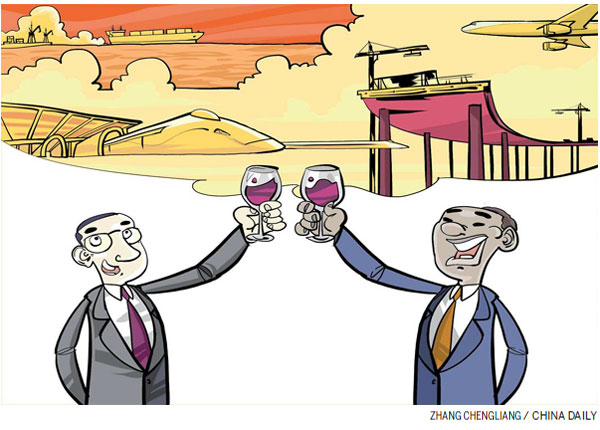 China's domestic economic transformation and its growing outward investments in developing countries have become more conspicuous as the country offers new models of development. Having written off underdevelopment as a strategy, China proposes a new concept for addressing challenges of development in other developing countries in Africa and around the world.
China-Africa cooperation dates back since the pre-independence era, although at that time the countries focused largely on political rather than economic cooperation. Chinese economic engagement in Africa came as a surprise to most economists and development analysts, and it is undoubtedly one of the factors that contributed to the high and robust growth experienced by the continent in the past decade. China-Africa relations have risen in prominence since the advent in 2000 of the Forum on China and Africa Cooperation (FOCAC), a triennial process at heads of state level, bolstered by systematic annual visits to African countries by the top Chinese leadership. The relationship has increasingly centered on economic cooperation as evidenced by the growing trade, aid and foreign direct investment flows between China and the continent. In this framework, China-Africa trade soared, with China's growth trajectory generating a global commodities boom and China's globalization policies gaining African markets. Chinese foreign investment in Africa began to increase dynamically.
This year's meeting provides Nigeria with an opportunity for deepening skills in transfer-related ties. This is a result of the gradual end of China's four decades of demographic dividends and as such, China is actively seeking to seize fresh economic opportunities in higher value-added production activities. The shifting of China's low-wage and labor-intensive jobs opens a new window for Nigeria to seize the opportunity provided by their own emerging demographic dividend period.
This new window, as postulated by Chinese policymakers, focuses on bringing world economies on an equal footing to tackle the fifth industrial revolution. The Nigerian Industrial Revolution Plan, released by Goodluck Jonathan's government in January 2014, aims to foster Nigeria as a regional manufacturing hub in West Africa, with plans to increase the manufacturing sector from 4 percent to 10 percent of GDP by 2017. This plan appears to have carried through under the new Buhari administration. China has played a significant role in ensuring that Nigeria's aim to become a regional manufacturing hub turns into reality through the Belt and Road Initiative.
Based on Chinese experience, the Chinese government knows that the precondition for building a significant manufacturing hub is to have a good infrastructure and required skills that will help add value to the primary product. The Chinese side is willing to promote cooperation with Nigeria in infrastructure construction such as railways, highways and hydroelectric stations.
With China's help, Nigeria has witnessed an infrastructure transformation able to meet the country's needs of a better global and integrated economy. For example, the coastal railway project contract in Nigeria, acquired by China Railway Construction Corporation Ltd, has the highest value of a single-contract project in the history of China's foreign engineering activities. The China-financed 186 kilometer Abuja-Kaduna Railway – which forms part of the larger Lagos-Kano Railway construction and modernization – was completed in Nigeria. In July 2016, China and Nigeria agreed to a contract to build the Lagos-Calabar Coastal Railway, which will stretch for 871 miles and is expected to be open in 2018. Dangote Cement, Africa's largest cement producer, signed contracts worth $4.3 billion in 2015 with China's Sinoma International Engineering firm to increase its capacity to 100 million tons. The plant will be built across some African nations and is expected to be completed by 2020, as Nigeria's largest listed firm expands. The plants slated for Cameroon, Ethiopia, Kenya, Mali, Niger, Nigeria, Senegal and Zambia, with another in Nepal, would add around 25 million tons to the company's existing capacity of around 45 million tons.
Capacity building among local technicians, along with supervisory expertise and skills, will be integral for the long-term sustainability of large infrastructure projects in Nigeria. Through FOCAC, Nigeria has benefited from cultural and educational exchanges as China offers more scholarship programs for Africa than the West, and I am a proud beneficiary. In promoting industrialization in Nigeria during a 2016 visit to the country, Premier Li Keqiang said: "Through the building of free trade areas and expanded agricultural technology transfer and investments, China is ready to promote production capacity cooperation with Nigeria."
In terms of skill development in Nigeria, Huawei and Nigeria's Federal Ministry of Communication and Technology are promoting information and communication technologies based on a one-year knowledge training program for 1,000 female engineers. The program aims to bridge the gender divide in Nigeria by fostering "empowerment, employment and the inclusion of women in Nigeria's development". Private companies like Alibaba and Tencent have also extended e-commerce opportunities for China and other countries around the globe, which Nigeria can leverage.
As the largest respective economies in Africa and Asia, China and Nigeria have had enormous mutually beneficial cooperation since the establishment of diplomatic ties over four decades ago. Premier Li Keqiang said, "We are willing to work with Nigeria side to promote common development and prosperity and make contributions to regional and global economic recovery and growth." On the other hand, President Buhari said China has made remarkable achievements in economic development and social stability, and he thanked China for having long regarded Nigeria as a cooperative partner and for its help for the development of Nigeria.
Edeh Emmanuel Chidiebere, from Nigeria, is currently studying at Zhejiang Normal University, Zhejiang province. He is a master's student of Chinese language and also a beneficiary of OBOR through FOCAC.
The opinions expressed here are those of the writer and do not represent the views of China Daily and China Daily website.
Most Viewed in 24 Hours
China Views