Professor sees bright future for China's science community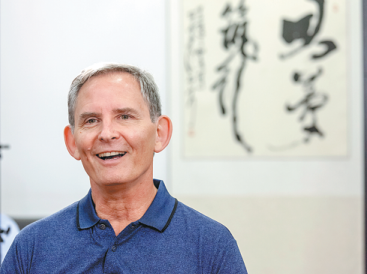 Renowned scholar Jay Siegel said he expects China's efforts to encourage innovation and creativity among students will propel the country's science education to new heights.
Siegel, 59, has been at the forefront of extensive reforms at Tianjin University since joining its School of Pharmaceutical Science in 2011. He was the college's first foreign dean since the founding of the People's Republic of China.
He now heads its Health Science Platform, which was formed two years ago by merging the schools of pharmaceutical sciences and life sciences.
"The most rewarding reforms have included combining faculties from all over the world and starting dual language teaching," said Siegel, who in 2015 received the Friendship Award, the country's highest honor for foreign experts.
"Looking forward, I expect China could make headway in supporting students' creativity, freedom and innovation," he added.
Siegel, who hails from the United States, is a member of the American Association for the Advancement of Science. Before arriving in China, he had worked in science education for 30 years in the US, Europe, Japan and Southeast Asia.
Since joining Tianjin University, which was founded in 1895, he said he has been committed to fostering an exemplary academic research climate and setting competitive academic standards through the curriculum, research evaluation projects, and the high engagement of students under the leadership of a strong international team.
The school has nearly 40 foreign professors from 17 countries, accounting for half the faculty.
Siegel was able to attract 23 leading experts, including from Cambridge and Yale universities, to the pharmaceutical sciences school, while the university now has five Nobel laureates on its faculty.
He also invites 60 to 70 foreign experts each year to give lectures and share their insights with students.
According to Siegel, his reforms have helped address the long-standing problem in science education in China that "students serve the teachers; while in the West, teachers serve the students".
Over the past 40 years of reform and opening-up, China has transitioned from a "science resource producer" to a "global research leader", he said.
However, he added, "Young people are the driving force of scientific research, and we can't predict the future of science. Supporting freedom and creativity to allow students to develop their ideas is the way forward for China."
Siegel said he expects emerging artificial intelligence technologies will improve medical diagnosis in the country, which in turn will improve the quality of life for many people.