Kweichow Moutai supports anti-poverty work
Kweichow Moutai Co., Ltd. recently donated 100 million yuan ($14.7 million) to the China Youth Development Foundation for a public welfare project to financially support 10,000 students from poverty-stricken families.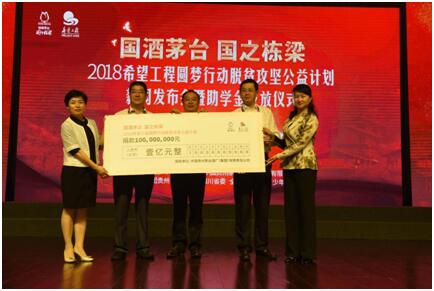 The donation ceremony was held on Aug 25 in Liangshan, Sichuan province in Southwest China.
The China Youth Foundation and Kweichow Moutai Co., Ltd., together with 33 provincial youth foundations, have continued to carry out large-scale public welfare activities to support the Hope Project for Dream Realization since 2012.
Kweichow Moutai donates 100 million RMB annually to the China Youth Foundation to support 20,000 needy students, with the aid standard of 5,000 RMB per person.
According to the donation ceremony remarks of Li Baofang, Party secretary, chairman and general manager of the company, 50 percent of this year's donation will help 10,000 students from poverty-stricken families in Liangshan.
Lin Shucheng, vice chairman of the Sichuan provincial CPPCC and Party secretary of Liangshan prefecture, said that the region is the largest inhabited area of the Yi ethnic group in China and the most prominent area with insufficient development caused by natural, social and historical factors.
The development of education is particularly backward.
The director of the China Youth Development Foundation, Wang Jian said that this year more than 10 million yuan has been donated through the Hope Project to support several public welfare projects.
Kweichow Moutai has contributed a total of 714 million yuan in the past seven years throughout 31 provinces, autonomous regions and municipalities.
The company has also financially contributed to the Xinjiang Production and Construction Corps and the national railway system.
It has become the largest contributor to public welfare in China, funding the largest number of students over the widest area.
To date, 142,800 students in need have entered college campuses with the company's support.