Gunman kills two, self, at video game event in Florida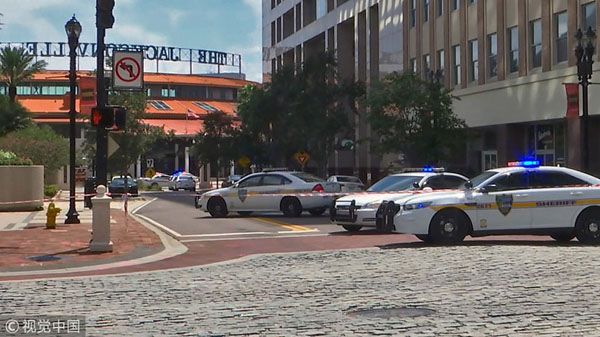 "Initially we thought it was a balloon popping, but there weren't any balloons in the room," said Williams, who had taken part in the tournament earlier. "Then we heard repeat shots and we took off running."
He added: "The first shot everybody just turned and looked. After the second, third and fourth shots, everybody took off and ran for the exits."Poindexter, an aspiring gamer, said she had gone to seek experience at the tournament. She never saw the face of the shooter, but added, "We did see him with two hands on a gun walking back just popping rounds."
It was then, they said, that people trampled others in the panic to escape. Both ran to a nearby restaurant where workers were waving people inside. They hid in a bathroom until police arrived.
Jason Lake, the founder and CEO of compLexity, a company that owns professional esports teams, said on Twitter that one of his players, 19-year-old Drini Gjoka, was shot in the thumb.
Gjoka tweeted: "The tourney just got shot up. Im leavinng and never coming back." Then: "I am literally so lucky. The bullet hit my thumb. Worst day of my life."
On Sunday evening, the FBI said, its agents searched a family home of the man authorities believed was behind the attack.
Heavily armed agents, some in bulletproof vests and brandishing long guns, could be seen entering an upscale townhome complex near Baltimore's Inner Harbor.
An FBI spokesman, Dave Fitz, confirmed that agents had gone to the house of the man's father in Baltimore. He declined to release specifics, citing the ongoing investigation.
T.J. Smith, chief spokesman for the Baltimore Police Department, also said that agency was assisting law enforcement partners "with some information that has led authorities to Baltimore."
In Washington, White House spokeswoman Sarah Huckabee Sanders said President Donald Trump had been briefed on the attack and the White House was monitoring the situation.
The Jacksonville Landing, in the heart of the city's downtown, also hosts concerts and other entertainment. It was the site of a Trump rally in 2015, early in his campaign for the White House.
The sheriff's office used Twitter and Facebook immediately after the shooting to warn people to stay far away and to ask anyone who was hiding to call 911.
Police also barricaded a three-block radius around the mall and sent in a SWAT team and bomb squad experts to secure the area. Police also took up positions on a bridge spanning the river with a view of the area.
Farrington reported from Tallahassee, Florida. Associated Press Writer Tamara Lush contributed to this report from the Tampa area and Laura Heald from Jacksonville, Florida.
AP