More tourists discover unique Xinjiang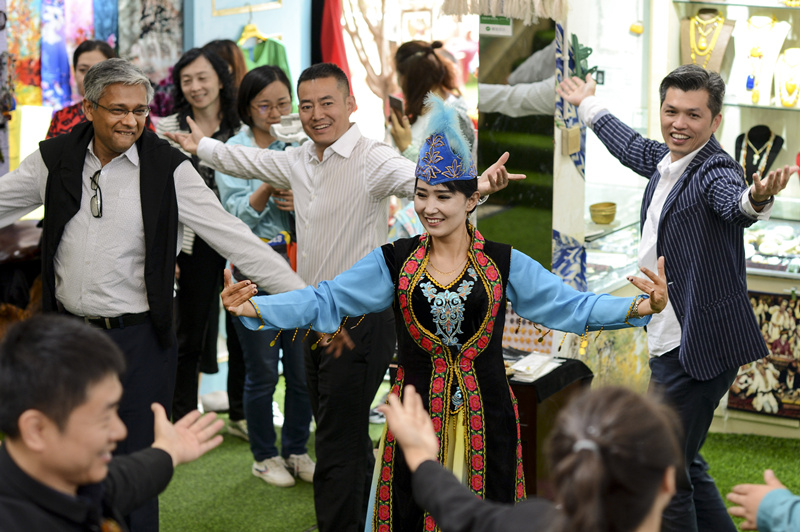 The Xinjiang Uygur autonomous region has seen a rapid and steady development of tourism in the past three years since the region mobilized all resources to maintain social stability, Xinjiang's top tourist official said.
The region plans to attract 300 million tourism visits annually by 2020. The money spent by tourists is expected to surpass 1 trillion yuan ($145.7 billion), more than 5.4 times that in 2017, said Hou Hanmin, Party chief of the regional tourism development commission.
"Stability is the foundation of attracting tourists. We must seize the opportunity of having a continuous stable social situation to boost the tourism industry, which will become a strategic pillar industry in Xinjiang," she told China Daily in an exclusive interview in the regional capital of Urumqi.
"Xinjiang has unique and rich tourist resources. The regional government is determined to transform such resources into driving forces for economic development," Hou said.
Xinjiang has always been China's main battleground against extremism, separatism and terrorism. The penetration of religious extremism from abroad has led to a series of terrorist attacks in Xinjiang in recent years.
After the central leadership made keeping the region stable the ultimate goal for Xinjiang in May 2014, with a special focus on combating terrorism, the region has implemented tough security measures to maintain social stability. These included establishing a quick-response network that enables public security officers to respond to an emergency within one minute in key areas.
The development of the tourism industry is seen as the indicator of Xinjiang's social situation, she added. "We always see a sharp drop in tourist numbers after terrorist attacks happened in the past, since security is the top concern for tourists," she said.
The region received 78.3 million tourism visits from January to July, an increase of 38.7 percent year-on-year. In 2017, the vast region, which accounts for more than one-sixth of China's territory, received more than 107 million visits from tourists, up by 32.4 percent year-on-year, according to the commission.
Hou hopes visitors will be understanding of Xinjiang's tougher security measures, such as checkpoints on major highways and routine police patrols. "I know that many people are not used to those measures when they first arrive. I hope they can understand that those measures are put in place to keep everyone safe. People can be at ease and truly enjoy the grand beauty of the region, knowing they are protected," Hou said.
Guo Haoming, a primary school art teacher from the southern city of Shenzhen, said he had been in Xinjiang for more than nine days, visiting southern and northern Xinjiang.
"I had been warned by many that Xinjiang is not safe to travel in before I came here. Now I can say it is probably the safest place in China," said the 25-year-old, who plans to show his students the beauty of Xinjiang through his paintings.
"All people need to do is to set foot in the region with absolutely stunning views and diverse cultures. I am sure all their worries will vanish," he said.
Contact the writers at cuijia@chinadaily.com.cn