Chinese artists look to dazzle at LA event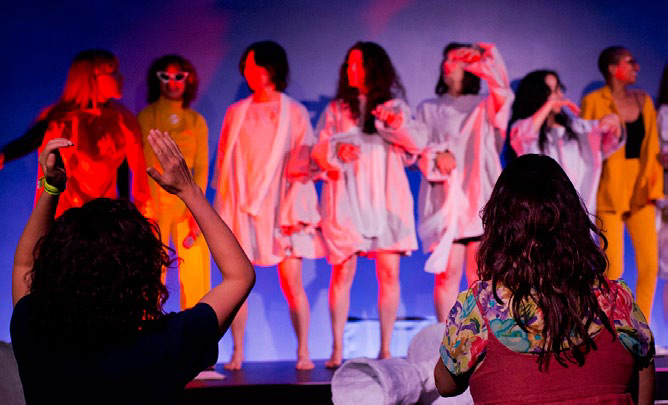 An eclectic mix of music will fill the summer sky in Los Angeles on Saturday, including performances by artists from China who combine traditional Chinese musical elements with Western art forms.
"There is a phenomenal amount of very extraordinary creativity and artistic works right now in China, and we very much wanted to highlight that," said Ed Patuto, director of audience engagement at the Broad Museum.
The annual "Summer Happenings" is a series of late-night events at the contemporary art museum featuring music, performance, film and art by various artists that is held on the last Saturday night of each month from June through September.
Sponsored by East-West Bank, the series will include The Greater Body (Shi-Dati), which features an array of artists from all around the world, especially those from China, most of whom will perform in Los Angeles for the first time, Patuto said.
He said a goal of the event is to emphasize the new artists from China, some of whom are working with Western art forms, and others are reinterpreting traditional Chinese art forms or instruments through contemporary devices.
Ban is a piece on the program list that is composed by Ji Dongyong, an associate professor at the Shanghai Conservatory of Music. It will be performed on sheng, one of the oldest Chinese instruments, along with interactive electronic music and visual media.
Ji said the sheng's sound will guide the visuals and color changes in the interactive media during the performance.
"The performance uses a combination of traditional techniques and modern technology, and expresses them through methods that are familiar with the modern audience," he told China Daily. "It is a good way to get people more interested in Chinese instruments."
Ma Jie, a virtuoso pipa and ruan player, will also perform in the program. The Lanzhou native has been exploring the possibility of blending traditional pipa technique with Western music, sounds and culture from around the world after coming to the US in 2004.
She said her instruments and music are her way to communicate with others and the world.
"I have three don'ts and 'mores' that I often share with musicians and artists who are into cross-cultural collaboration: Don't forget the roots, don't get tied up by it," Ma said, "and don't just imitate others without knowing why; explore more, read more and play more."
In fact, the name of the program: Shi-Dati is derived from the Chinese emphasis on collectivity and communities, Patuto said.
"There are so many arts being generated right now out of China, and people seemed to be doing things not just for their individual vision, but also really bringing a much expansive vision of how they see their lives, how they see China right now," he said, "and that resonated with us".
Lotus Ferry, a 2006 documentary that will be screened during the program, stemmed from its director Zhou Hongbo's desire to document an old part of Shanghai that preserves a crowded yet vibrant neighborhood from the past, which is different from the megalopolis that Shanghai is known for.
"I want to tell people that there was once a zone like that in the middle of all the skyscrapers in Shanghai, which is entrusted with the emotion of Shanghai natives," said Zhou, who described Lotus Ferry as a fleeting image of Shanghai's memories.
Lotus Ferry is a small and busy district in Shanghai. It was named after the ferry boats that residents take every day to get to the rest of the city. Although the district still exists today, a lot of the old structures have been torn down, and residents relocated from the area.
Other performers in the program are Re-TROS, Xiu Xiu, MIIIA, Asian Dope Boys, FAZI, Aisha Devi, Yan Jun, Daniel Collás and Juliet Swango, Shave "N" Shut, Hell City and Dai Zifan.
Contact the writer at teresaliu@chinadailyusa.com