Philadelphia eyes deeper ties with China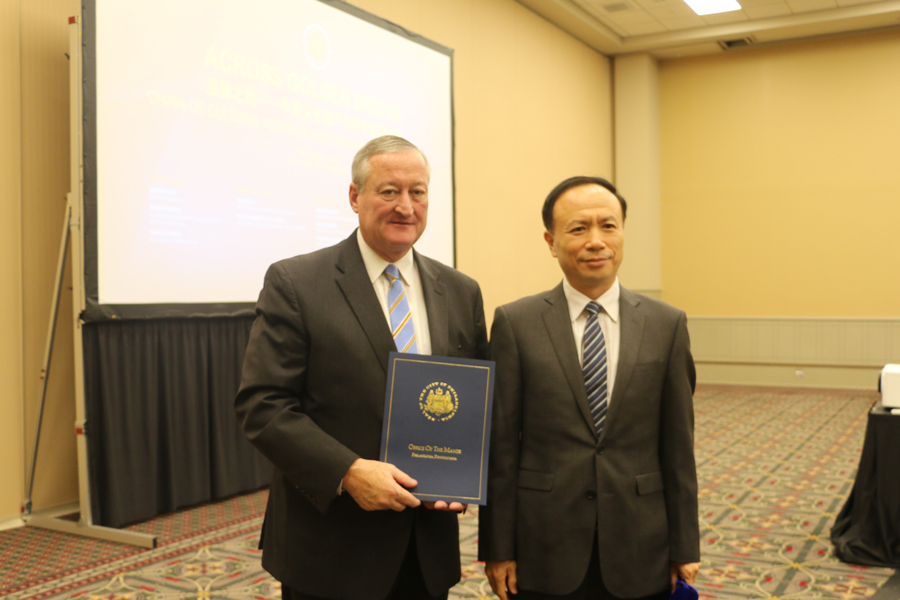 The first China-US Cultural Heritage and Urban Development Forum kicked off on Monday at the Pennsylvania Convention Center, aiming to strengthen exchanges and cooperation in the two areas and further promote business opportunities between the two countries.
"Our relationship with China is a special one, as it's continued to grow since 1979, when Philadelphia and Tianjin became formal sister cities. This was China's first sister city partnership," Philadelphia Mayor James Kenney said at the opening ceremony.
"China now is our No 2 market for international tourism. We also share world heritage cultural distinctions," Kenney said. In January, he said, representatives from the Philadelphia Department of Commerce visited China and discussed more opportunities for collaboration.
"We value your friendship and partnership and we want to continue to grow that. It's important for us, important for the peace of the world and also important for our business communities," Kenney told the representatives from China.
The theme of this year's forum is Opportunities and Challenges for Digital Heritage Protection. Attendees included experts on cultural heritage and relics protection.
Philadelphia is one of three co-organizers, along with the Consulate General of China in New York and the China Cultural Media Group, which hosted the event.
Forum discussions included heritage protection, digital heritage protection and the link between cultural heritage and urban development.
"We are coinciding with a meaningful time in China-US relations," said Zhao Yumin, China's acting consul general in New York. "While we are convening here in Philadelphia to discuss cultural heritage and urban development today, 40 years ago, China launched its historical reform and opening-up policy, and almost 40 years ago, China and the US established a diplomatic relationship.
"From city planning to heritage protection, China has improved its conditions by learning and self-innovation in the past 40 years. And more importantly, the Chinese people and American people have built a cherished friendship and mutual trust-that's the foundation of broader collaboration between the two great nations.
"Standing at this historic juncture, China and the US need to think about their future with common challenges such as economic tensions, climate change, environmental threats and terrorism."
Zhao added that the recent trade disputes between the two nations have harmed the friendship the two peoples built over decades.
"Shall we fight each other with a zero-sum mindset, or work together to find a win-win solution?" he said. "Today we are here to discuss heritage, but what's the most important heritage we need to protect? That's the collaborative spirit China and the US have honored for nearly 40 years."
Local politicians and business representatives also called the forum an opportunity for greater economic and cultural collaboration between China and the United States at the local level.
"Obviously there's a little complication as we speak right now, but we know things will change," said Philadelphia City Councilman Mark Squilla.
"I've been fortunate enough to be in China four or five times, I think we have so much to learn from the extensive heritages in China, both in what it is and how it's been preserved," said Donovan D. Rypkema, president of Heritage Strategies International, a Washington, D.C.-based consulting firm, on the economic evaluation of historic resources.
"There are some tools to encourage conservation we developed in the US that may be useful in China, so I think there are great opportunities for cultural exchanges as well as business partnerships between China and the US," he said.