Shameless plugging of brand by swimmer harms team's image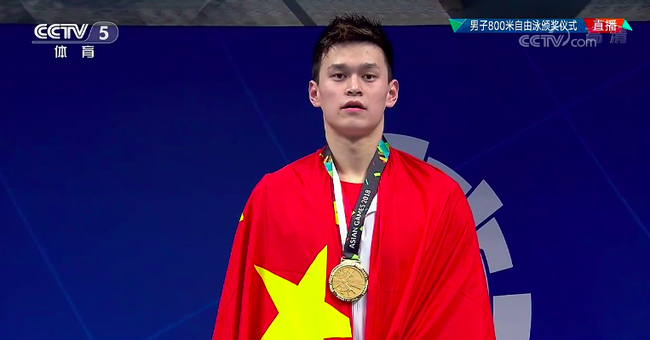 Sports competitions have rules that the athletes have to abide by. All athletes and officials have to abide by the rules about team uniforms. However, Chinese athlete Sun Yang, who won gold in the men's 200-meter freestyle swimming contest in the ongoing Asian Games in Jakarta, Indonesia, chose to wear the tracksuit of a brand with which he has a contract rather than the official teamwear at the medal ceremony. Beijing News comments:
More than that, after Sun won another gold medal in the men's 800-meter freestyle swimming final, he wore the official brand but covered it with a national flag. Even the logo of the brand was covered with a smaller national flag. During the whole process, he wrapped himself so tightly that he almost could not shake hands when receiving his medal.
Sun's deeds have hurt the image of the Chinese national swimming team. Especially, since his teammate was wearing the official brand when receiving the bronze medal for the men's 200-meter freestyle. As a result, the whole world saw two Chinese athletes wearing different suits when receiving their medals, which is rather embarrassing and tarnished the image of all the Chinese athletes at the games.
Sun might have thought he was being smart by covering the logo of the official uniform with the national flag. The problem is, by doing so he was making use of the national flag, instead of honoring it.
Rules are essential in sport. Sun should know it is necessary to follow the rules, and there are some other athletes that he could learn from.
On Monday, Lin Dan, a Chinese badminton player, was seen wearing the official uniform in an Asian Games contest even though he did not participate. The official uniform is of a different brand from his own contracted brand, but he wore it as a member of the Chinese national team during the games.
Most Viewed in 24 Hours
China stories