People-first policy for healthy growth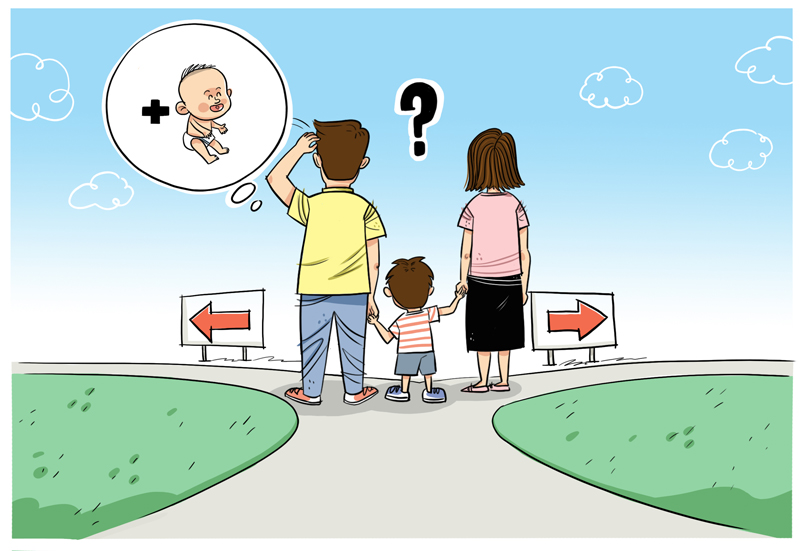 Editor's Note: Some experts recently proposed that "maternity funds" be established with the contributions from childless and single-child couples to help those families that have two or more children. Their argument is that the measure will encourage (if not force) all childbearing age couples to have two children and help ease the aging problem. But their proposal has sparked a heated debate online on how to sensibly encourage couples to have two children and cope with the aging population. Three experts share their views on the issue with China Daily's Liu Jianna. Excerpts follow:
Welfare policies can ease couples' burden
The cost of raising a child in China that includes "labor", education and medical costs, which has increased manifold thanks to economic and social development, has prompted most couples to have just one child. The previous one-child policy, which was scrapped in January 2016, has also played a role in limiting couples' desire to have more than one child.
Given that China has already fallen into a low-fertility trap, it needs to further ease the family planning policy, which now allows all couples to have two children, so as to help correct the demographic imbalances and ease the looming elderly care crisis.
Although the limited effects of the two-child policy suggests even a more liberal family planning policy won't do much to significantly increase the birth rate, the fact remains that some couples might like to have more than two children, and their wishes deserve to be granted to prevent the birth rate from declining further. As such, the government should consider returning the reproductive rights to the people.
Some people's proposal that maternity funds be set up and double-income-no-kids couples taxed to raise the birth rate misses the point. Instead of charging single-child parents or couples with no kids to prompt all couples to have two children, the government should provide more incentives for families to have more than one child.
China should draw on developed countries' experiences to offer couples more childbirth and maternity benefits-such as birth allowance, social security and related services-to ease their burden as well as encourage other families to have two children. For instance, Denmark's welfare policies for children and families have yielded favorable results, and countries such as Japan and Germany are set to adopt welfare intervention policies to ease the burden on families.
Mu Guangzong, a professor at the Institute of Population Research, Peking University
Population size should not be only focus
Certain people have developed some mistaken views on population issues. For instance, some have called on the government to take measures to boost the total fertility rate, which is now below the replacement fertility rate, while ignoring the inherent logic and implication of the concept itself.
As a matter of fact, the size of a country's population would remain constant if its total fertility rate and replacement rate were the same, while it would increase if the fertility rate were higher and decrease if it were lower than the replacement rate. People who want China to have a higher fertility rate actually want to maintain the current population size, which shows they are content with the current situation.
And those calling for a higher birth rate to offset the gradual decline in China's workforce misunderstand the relationship between population size and economic development. The combined GDP of developed countries is about $50 trillion, although they have a workforce of only about 750 million. On the other hand, even with a workforce of about 920 million, China's GDP in 2017 was only $11 trillion. At the heart of the problem is China's very low labor productivity and over-abundance of labor-intensive industries, resulting in the oversupply of college graduates and a severe shortage of migrant workers in the last few years.
China's population exerts lots of pressure on resources, including land and water and the environment. In a near-ideal state, China's population will gradually decrease at a pace that would not have a great impact on the social and economic development after it reaches the peak of 1.45 billion. And since a large population does not necessarily mean an equally large economy, priority should be placed on improving people's abilities-so they can live better lives-and significantly raising labor productivity.
Given that a declining birth rate is an inevitable outcome of urbanization and modernization, what the government should do is to respect the people's decision to have one child or two children, or no children at all. It was estimated senior citizens above 60 years would account for 35 percent of China's population in 2050 without the two-child policy, but with the policy it will be 32 percent. Which shows that the easing of the family planning policy would be effective, but only to a certain extent, because boosting the birth rate alone cannot reverse the trend of aging population.
Zhai Zhenwu, a professor at the School of Sociology and Population Studies, Renmin University of China
Couples should have reproductive rights
Some reports suggest the authorities are considering removing all limits on the number of children couples can have to cope with the aging population. But considering that the two-child policy has not delivered the desired results, it is highly likely that the removal of all family planning restrictions, too, would fail to boost the birth rate. After all, the number of couples who would like to have three or more children is most likely limited. Still, the move would be significant because it would return the reproductive rights to the people.
It is true that the strict family planning policy, to a large extent, helped lower the birth rate. But the decline in China's birth rate can also be attributed to the rapid economic development and social progress, especially the liberation of women.
But it would be unpalatable for the authorities to interfere, through direct or indirect means, with a family's decision to not have two or more children. The government should, instead, take steps to build an atmosphere that would encourage couples to have more children.
The size of a population should be taken as an underlying variable or contextual factor, because it is the result, not the cause, of economic and social development. Determining the size of a population that is ideal for boosting economic and social development is inappropriate, because reproductive rights are the fundamental rights of families.
It would be better if the natural development of a population propels economic development, but economic development should never be given priority over people's reproductive rights. The people-first policy should always be adhered to when it comes to reproductive rights and birth polices.
Zhang Juwei, the director of the Institute of Population and Labor Economics, the Chinese Academy of Social Sciences
Most Viewed in 24 Hours
China Views