Eating our way to better relations through BRI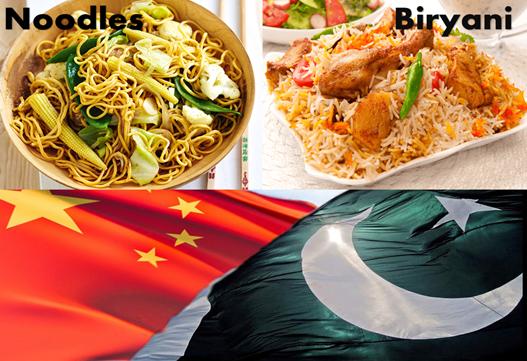 In 2015, President Xi Jinping signed an agreement worth $46 billion with Pakistan to construct a fast-tracked infrastructure named China-Pakistan Economic Corridor. The Belt and Road Initiative is considered a real game-changer in the region, and through CPEC it will bring positive changes to the economy of Pakistan.
China and Pakistan are known as "iron brothers". It is said the Pakistan-China friendship is higher than the Himalayas, deeper than the ocean, sweeter than honey, and stronger than steel. Both China and Pakistan have deep cultural values. Cuisines and restaurants represent these values well, and the cuisines of China and Pakistan are known around the world. CPEC's adoption has increased the number of Chinese in Pakistan and Pakistanis in China. Thus, opening restaurants along the Belt and Road, and even in China and Pakistan, can be a fruitful trade for both countries.
The number of Chinese cuisines is increasing in the capital city of Pakistan. According to one estimate there are about 15 Chinese restaurants in Islamabad at the moment, 12 of were opened after 2013. Mei Kong, a very famous Chinese restaurant, opened in Rawalpindi, Pakistan in the 1970s. Ten years after the opening of Mei Kong, another Chinese restaurant named China Town was established in the capital city.
Conversely, there are a number of Pakistani restaurants in China. However even with the increase in the number of Pakistanis coming to China every year, there are still fewer than there are Chinese restaurants in Pakistan. Khan Baba Restaurant is one famous place in Beijing, China's capital. Shalimar is another Beijing restaurant where many Chinese visit to taste delicious food.
Another example is the appeal of biryani, a well-known Pakistani dish. Days ago, Shan Foods Pakistan released an advertisement with a Chinese family in Lahore, Pakistan. The advertisement shows a newly arrived Chinese couple in struggling to make friends due to cultural barriers. However, in a stroke of genius, the wife decides to make biryani and introduce herself to her Pakistani neighbors. The neighbors tasted the biryani and found it scrumptious.
Chinese food is delicious as well. Many dishes are famous among foreigners living in China. I have tasted a great deal of them and found them delightful. A large number of foreigners from different countries can be seen in Chinese restaurants, showing the great interest of foreigners in tasting mouthwatering Chinese food.
The BRI has brought food from both countries to another level. Restaurants from both China and Pakistan can be constructed along the long Belt and Road route. Fruits, vegetables, citrus juices, rice and other agricultural products can be exported through CPEC, which will provide mutual economic benefits. China and Pakistan can also export foodstuffs to other countries along the Belt and Road, in regions like the Middle East and Europe. The BRI will take the trade and economies of China and Pakistan to another level — one bite at a time.
Shahneela Ijaz from Pakistan is living in China on spouse visa.
The opinions expressed here are those of the writer and do not represent the views of China Daily and China Daily website.
Most Viewed in 24 Hours
China stories