Job prospects bring more students home
Share - WeChat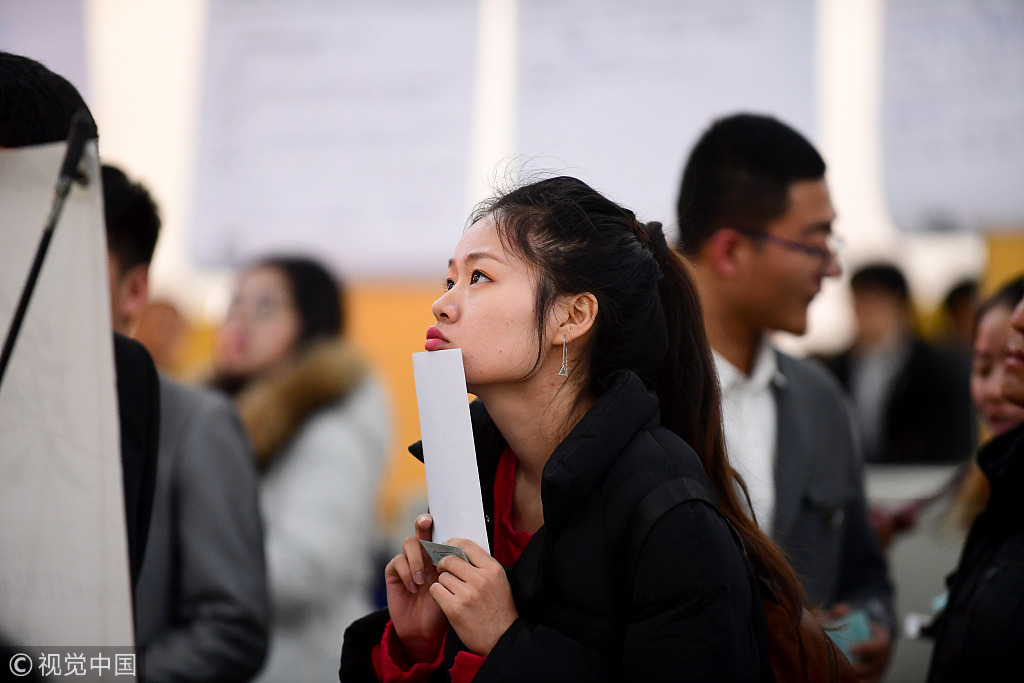 The number of Chinese students returning from abroad has grown by leaps and bounds due to better job prospects at home and tightening work and migration policies overseas, according to a new report.
In 2017, 608,400 students from China went abroad while 480,900 returned, according to the Ministry of Education. Nearly 80 percent of students chose to return to China after completing overseas studies last year, up from 30 percent in 2007 and about 5 percent in 1987.
The Report on Employment and Entrepreneurship of Chinese Returnees, based on a survey of 2,190 overseas returnees in July, was jointly released on Sunday by the Center for China and Globalization, a Beijing think tank, and recruitment website Zhaopin.
Forty percent of respondents chose to return because of more job opportunities in China, while 27 percent feared that employment and migration regulations abroad may hinder their career development, the report said.
Overseas-educated Chinese still prefer to work in China's first-tier cities after returning home. About 20 percent of respondents returning from overseas chose to work in Beijing, followed by Guangdong province (including Guangzhou and Shenzhen) and Shanghai, at 14.6 percent and 11.4 percent, respectively.
Li Qing, a researcher for the think tank in charge of compiling the report, said favorable policies for overseas-educated students played a big part in the influx of foreign-educated graduates to first-tier cities.
Benefits include special project incubators, funds, tax cuts and easier access to permanent residence, Li said.
Although second-tier cities have rolled out a slate of favorable policies to attract talent, including housing subsidies, policies in these urban areas tend to favor domestic college graduates over overseas returnees.
Zhang Xiaobing, who earned an MBA from the University of Toronto in 2016, set up a human resources company in Beijing's Zhongguancun Science Park.
"I came back to start a business in Beijing because I love the atmosphere and I see the opportunities for doing business here," Zhang said. "The government has offered me great help in starting my business, including free rent, tax breaks and funds."
The report found that although 40 percent of foreign-educated students found their first job within one month and nearly 95 percent within half a year, 80 percent earned less than they expected.
Li Qiang, marketing director of Zhaopin, said the surprise many expressed over their comparatively low salaries highlights a large expectation gap among returning students, whom Li said were often overconfident and lacked knowledge about the best channels to find work, and what skills employers were looking for.
When they come back to start their job hunts, they find themselves competing with those who already have some work experience, Li said.
"You can't weigh the pros and cons in direct financial terms because overseas graduates have other advantages such as enhanced personal development and a broader vision."