Izu Yasaimura opens new brunch outlet in Beijing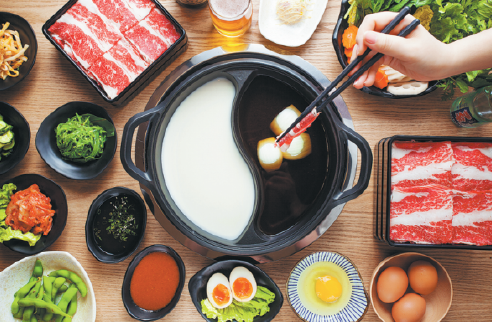 Izu Yasaimura, a pioneer in pairing hotpot with sashimi, unlimited sushi and Japanese desserts in Beijing, recently launched its seventh brunch place in the capital, after its first foray abroad-a brunch outlet in Sydney in May.
The latest Beijing outlet, a Japanese-style hotpot sukiyaki buffet, created by Japanese interior designer Ryota Kotani, is spare but exquisite.
Ten soup bases are available, including the most popular sukiyaki, which uses a traditional Japanese recipe that requires carefully stewing of 13 vegetables and grilled marrow bone for at least seven hours.
Sukiyaki's fresh, sweet and mellow flavor is a delight to the taste buds.
Collagen soybean milk is another favorite because it brings out the freshness of the vegetables, as Izu Yasaimura uses collagen from deep-sea fish believed to benefit people's skin.
The other broth flavors are kelp, tomato, miso, tangy curry, Japanese-style spicy and Taiwan-style wulao spicy.
For the meat selection, Izu Yasaimura has two kinds of beef from Australia-high rib and shoulder-besides mutton and pork shoulder, all served in square boxes.
According to Tommy Song, general manager of its Sydney brunch, diners at Izu Yasaimura consumed over 100 tons of beef last year.
"All our beef is carefully selected-we only choose meat with even patterns and a bright red color," says Song.
A sushi-and-sashimi platter is served alongside the hotpot, featuring thick cuts of Norwegian salmon among other delicacies.
Seasonal snacks include lotus with linseed oil and needle mushrooms with crisp bamboo shoots.