Mahathir's visit will boost bilateral ties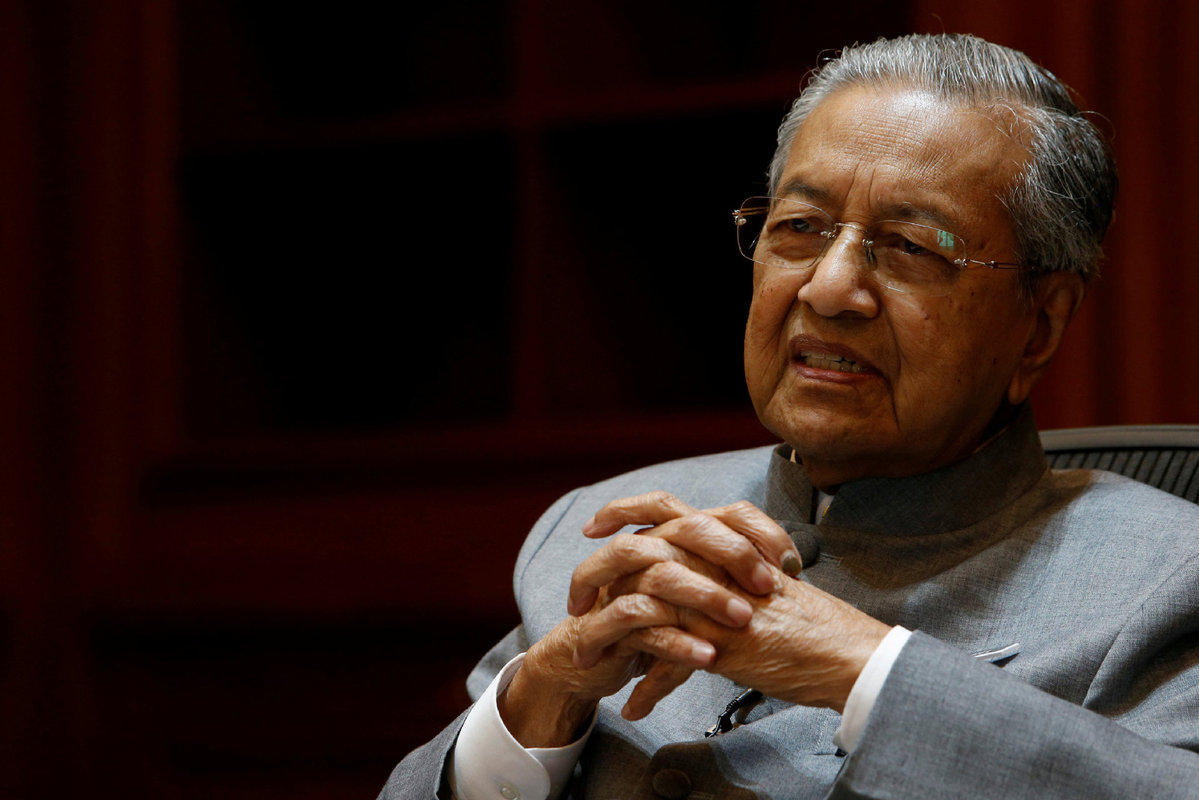 The five-day visit of Malaysian Prime Minister Mahathir Mohamad from Friday comes amid investigations into projects signed by the preceding Malaysian administration of Najib Razak and the suspension of several projects, including the Chinese-funded 688-kilometer East Coast Rail Link and three gas pipelines, which could incur heavy losses both for Malaysia and China.
But despite such disagreements, Malaysia still attaches great importance to its partnership with China, which means that during Mahathir's visit, Malaysian and Chinese leaders will likely discuss how to deepen mutual trust and work out a blueprint for bilateral trade and economic ties.
That is precisely why the 93-year-old Malaysian leader's visit at the invitation of Premier Li Keqiang has fueled hopes that the two sides will strengthen cooperation to expand their mutual benefits and negotiate the projects under the China-proposed Belt and Road Initiative.
And the fact that Mahathir's visit to China is the first foreign trip outside ASEAN he has undertaken after being re-elected Malaysia's leader shows that speculations in some foreign media outlets that Mahathir will invert relations with China are just wishful thinking. As Chinese Foreign Minister Wang Yi said at a meeting with Daim Zainuddin, special envoy for Mahathir, the two countries are not only comprehensive strategic partners committed to pragmatic cooperation, they can also strengthen their friendship despite the occasional volatilities.
True, Mahathir has said the projects funded and built by China are unfair to Malaysia. But by canceling the projects, Malaysia will violate the bilateral contract which will cause great losses for Chinese companies that have already spent huge amounts of money on the projects' construction. Still, if Malaysia decides to go ahead and cancel the projects, the two countries have to negotiate a solution and the amount of compensation Kuala Lumpur should pay for breaking the contract.
In spite of all this, China and Malaysia may consider expanding cooperation to e-commerce, high-tech, auto manufacturing and environmental protection.
China and Malaysia have more common interests than differences. China has been Malaysia's largest trading partner for nine years, and the second-largest export market.
According to China's statistics, bilateral trade reached $96 billion in 2017, up 10.5 percent year-on-year, accounting for 18.7 percent of the trade volume between China and the Association of Southeast Asian Nations. Bilateral investment, too, has increased fast in recent years. By the end of last year, Malaysia had invested $7.58 billion in China, and China about $5.1 billion in Malaysia. Plus, China was the largest investor in Malaysia's manufacturing sector in 2016 and 2017, contributing to its technological and industrial upgrading.
China-Malaysia cooperation is built on a concrete foundation and remains vigorous. As an experienced statesman, Mahathir has a clear understanding of China-Malaysia relations. He has publicly supported the Belt and Road Initiative several times and is willing to improve Malaysian-China ties. Hopefully, the two sides will steadily advance bilateral relations.
The author is an associate researcher of Southeast Asian studies at Chinese Academy of Social Sciences.
Most Viewed in 24 Hours
China Views