Putin praises solid ties with Beijing
Share - WeChat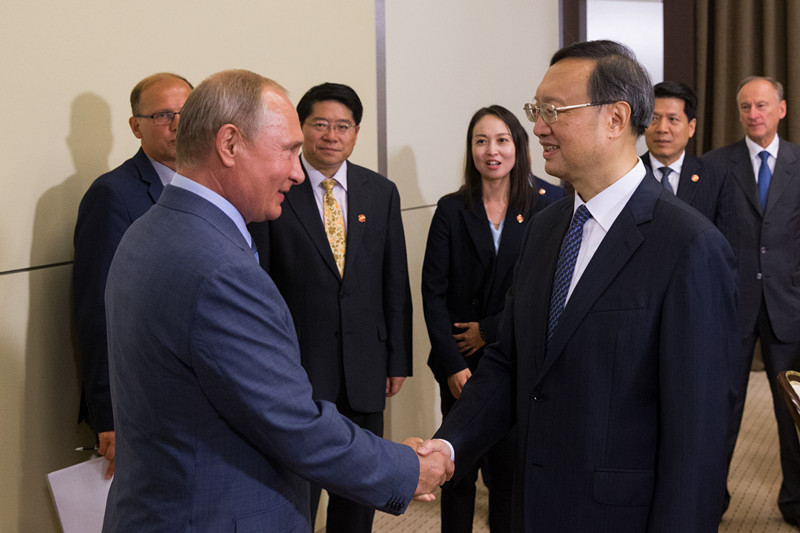 The Sino-Russian relationship has been developing in a positive, mutually beneficial direction thanks to the efforts of both governments, said Russian President Vladimir Putin on Wednesday.
Putin met Yang Jiechi, a member of the Political Bureau of the Communist Party of China Central Committee, in the Black Sea coastal city of Sochi.
Putin stressed the importance of the bilateral relationship to both countries as well as to the world.
Yang said the year 2018 marks a milestone for the development of Sino-Russian ties. Putin and President Xi Jinping met twice this year and have helped guide the direction of future bilateral relations.
Yang, also director of the Office of the Foreign Affairs Commission of the CPC Central Committee, said the relationship between the two countries represents a new model for international relations based on mutual respect and equality.
The Chinese government will work together with Russia to convert the agreements made by the leaders into practical results, maintain high-level strategic coordination and push the development of the international order in a better direction.
Putin said the Russian government will continue to engage in strategic communication with China and closely cooperate on global and regional issues. Moscow will also help develop the Sino-Russian comprehensive strategic partnership of coordination.
"I met President Xi Jinping last month. We exchanged opinions on our bilateral relations and on international issues during the BRICS Summit, and reached important new agreements," Putin said.
The 10th BRICS Summit was held last month in Johannesburg, South Africa.
In June, the two leaders met in Beijing during Putin's state visit to China during which Xi described the Sino-Russian comprehensive strategic partnership of coordination as "mature, stable and solid".
"I look forward to meeting with President Xi again," said Putin.