BRICS helps build youth ties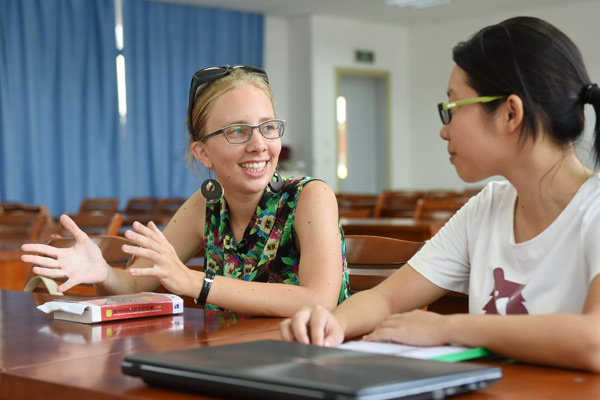 XIAMEN-To Strauss' Radetzky March, Marianna Donner, a Russian ballet teacher, instructs three girls at the Banlam Grand Theater in Xiamen, East China's Fujian province.
Donner, who started learning ballet as a 7-year-old, has been a dancer for 24 years before she left her Russian hometown of Yaroslavl last April to work as a ballet teacher in Xiamen.
Since then, Donner has taught more than 50 students. "Ballet to Russia is what Peking opera is to China," says Donner. "I am honored to act as a cultural ambassador in Xiamen."
Donner says she came to China because the country is relatively unknown to her and has many opportunities, and she fell in love with Xiamen thanks to its good weather, nice environment and friendly people.
Xiamen hosted the BRICS summit in September 2017, which showcased cooperation between the world's major emerging markets: Brazil, Russia, India, China and South Africa.
In her opinion, BRICS has helped to promote people-to-people exchanges and to embrace cultural diversity.
"I am interested in China's kung fu tea and I would also like to learn yoga," says Donner. "With closer ties between BRICS countries, we can understand each other much better."
Wilma Hugo, a South African student at Xiamen University, has spent more time than usual on the internet looking at news about the BRICS summit recently. After studying how to teach Chinese at the university for more than two years, she is about to start an internship as a Chinese teacher in her hometown of Worcester, a city 1,000 kilometers south of Johannesburg.
Hugo has been interested in Chinese kung fu movies since childhood and, in 2010, she started to learn Chinese at Stellenbosch University in South Africa.
In 2016, Hugo won a scholarship offered by the Chinese government to study at Xiamen University.
"The more Chinese I learn, the better I get to know China," says Hugo. "The country is developing quickly and is more open than ever. In addition, it has developed good bilateral relationships with many African countries."
Hugo was happy to see the recent BRICS Summit being held in South Africa this year.
"The event will help more Chinese people to learn about Johannesburg, just as South Africans learned about Xiamen last year. People from both countries will gain a closer insight into each others' cultures, and the event is like an incentive to do so," she says.
In 2016, South Africa's Department of Basic Education announced that they planned to open Chinese classes in 500 primary and high schools in five years.
"There is a fervor for learning Chinese in South Africa. However, more Chinese teachers are needed," says Hugo. "I paid a great deal of attention to the discussions on educational exchanges at this year's BRICS Summit. I hope we can have more trained Chinese teachers from both countries."
In May, Hugo passed the HSK 6, the highest level Chinese language test designed for non-native speakers.
"I was glad that I passed such a difficult exam, and it makes me more confident about starting my career teaching Chinese," she said.
Hugo reads ancient Chinese classics, including The Analects of Confucius.
"The stories teach us many principles on how to conduct ourselves. They are meaningful even today," said Hugo. "I will introduce them to my students in South Africa to show them the charming Chinese culture."