Paddy field pictures attract hordes of visitors to Ningxia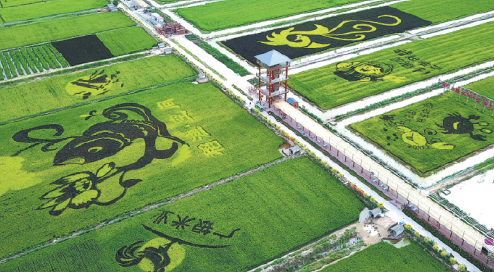 Paddy fields in Helan county, in northwestern China's Ningxia Hui autonomous region, have been planted to please the eye as well as produce rice.
From a 100-meter-tall observation tower nearby, visitors can see seven-color images of the Monkey King, fairies and the God of Longevity - all characters in the classic Chinese novel Journey to the West.
The paddy field pictures were the brainchild of a local company hoping to boost tourism. Since their completion in 2012, the pictures have attracted about 200,000 visitors every year.
"The painting work was laborious," said Zhao Jianwen, general manager of Helan Guangyin Rice Industry. "Farmers needed to rope off patches of paddies and use various types of rice seed to create different colors, according to the blueprint designed by computers.
"We plan to make more paddy paintings next year that will tell the stories in Journey to the West, in which the main character Xuanzang and his disciples embark on a pilgrimage to India to bring back Buddhist scriptures."
Xinhua