China-Peru relationship strengthened by opening-up
Share - WeChat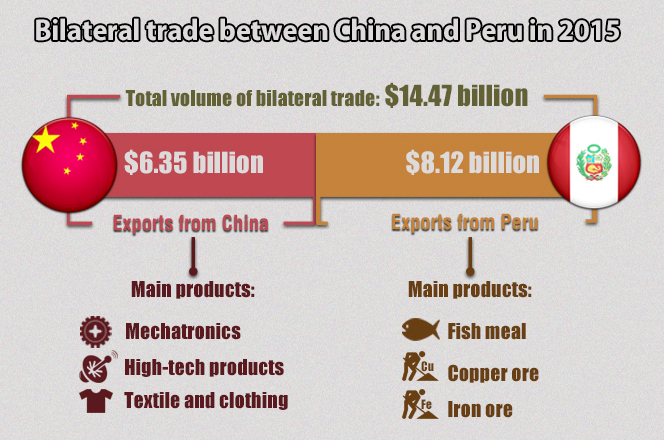 As a student of international trade, I have been a keen researcher of trade relationships between various countries, especially Peruvian trade relations with other countries. China has been a key player in developing and innovating business strategies. As I also have an interest in history, I decided to look into China's reform and opening up policy initiated by Deng Xiaoping. In brief, they executed market reforms aiming to fulfill demands related to technology and customer satisfaction. The policy of opening-up consists of three stages. In stage one, from 1978 to 2000, foreign investors were recruited to invest in China. This boosted the Chinese economy drastically. In the second stage, from 2001 to 2012, they adopted World Trade Organization rules and global supply chain management. And in the third stage, kicking off in 2013, China began work on the Belt and Road Initiative, a unique project.
At the APEC Asia-Pacific trade summit, President Xi Jinping and Peruvian President Pedro Pablo Kuczynski signed 18 agreements in a public ceremony, including a measure to enhance their existing bilateral trade agreement. According to these agreements, many Chinese companies are exporting mining machinery and parts to different parts of Peru.
Both countries have also signed a Free Trade Agreement, which was officially approved by each country's government on December 6, 2009 and implemented on March 1, 2010. The mutual FTA is intended to abolish trade and investment difficulties between China and Peru. The FTA creates a set of comprehensible guidelines that will open up systematized mutual trading and investment relations. The FTA is the first comprehensive marketable agreement between China and another developing country with provisions for goods trading, investments and service trading.
China's markets provide a great prospect for Peru. Demographically, China is the world's largest market, with a population of nearly 1.3 billion people. Among these, around 500 million live in urban areas, signifying a rapidly rising procuring power. From a commercial perspective, China is one of the few countries that has developed drastically in the last two decades. That development has involved the import of larger volumes of raw materials, intermediate goods and capital goods.
The commercial paradigms of Peru and China are complementary. The exports of Peru and the imports of China are well-synchronized in case of raw materials and manufactured goods based on natural resources. Peru's imports and China's exports also complement one another in manufacturing not based on natural resources and robust consumer goods not manufactured in the country. From a commercial perspective, China is already Peru's second-largest commercial partner and in 2008 commercial trading with China grew to $7.8 billion, 62.8 percent higher than 2007.
Considering the trade agreements between China and Peru, it seems clear China has successfully partnered with South America under its reform and opening-up policy. As a Peruvian, I can say it's a victory for both nations.
Mirtha Pardo is a senior accountant in Lima Peru associated with a Pharmaceutical firm and likes to read about economic relationships between various countries.
The opinions expressed here are those of the writer and do not represent the views of China Daily and China Daily website.
Most Viewed in 24 Hours
China Views