Expert: Adjust the population policy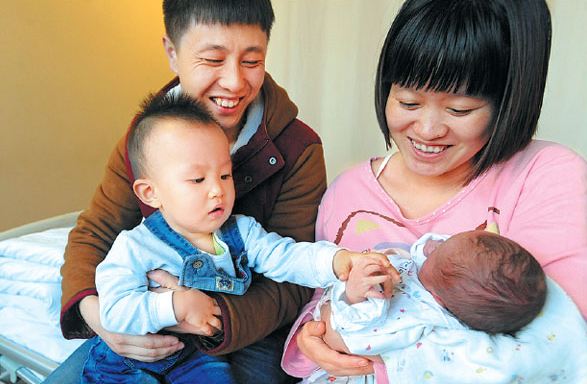 Relaxation of previous restrictions have not encouraged enough births
China should further relax or even abolish the family planning policies to increase births and ease the impact of rapid population aging, a leading expert has suggested.
The latest relaxation in the family planning policy, which allows all couples to have two children, will to some extent encourage births and ease population aging in China, but it is not enough, said Zhang Chewei, vice-president of China Population Association.
"I think birth restrictions should be abolished so people have the right to decide how many children they have," he was quoted by China Newsweek, a Beijing-based news weekly, as saying on Friday. "After this is carried out, authorities can consider more measures to encourage births."
China's total fertility rate, a key population index, declined gradually after 1990, the year when the rate reached 2.1, the minimum level to ensure China's population will not shrink, Zhang said. The rate has generally remained between 1.5 and 1.6 since 2000, indicating a serious lack of births, he said.
According to China's National Health Commission, total fertility rate-the average number of children a woman gives birth to during her lifetime-rose to 1.7 in 2016, the first year when the universal second-child policy was carried out.
Last year, about 17.23 million babies were born in China, roughly 630,000 fewer than in 2016, according to data released in January by the National Bureau of Statistics.
The result was unexpected by the public and many experts, and some experts have suggested abolishing restrictions in the number of births.
On Monday, State-owned China Post released the design for a special stamp marking the beginning of 2019, the Year of the Pig according to the traditional Chinese calendar. The stamp depicts two big pigs with three piglets.
The design aroused public attention, with many people speculating a further relaxation of China's family planning policy next year.
The National Health Commission did not comment on Friday on the possibility of policy changes.
The commission previously said the universal second-child policy has increased births, and it will evaluate the effect of the policy and research population fluctuation.
China's fertility rate is very low and there is no possibility that it will rebound greatly in the future, Zhang said, and China's population will inevitably decrease even with more stimulation measures.
A major impact of low fertility rate is a rapidly aging population, which is causing an increased social burden, he said, adding China's population aging has been among the fastest in the world.
The number of people aged 60 or above in China exceeded 240 million last year, accounting for 17.3 percent of its population. The rate could exceed 30 percent by the middle of the century, according to some experts.
Some provincial regions in China have proposed various measures to encourage births. In Liaoning province, couples who have a second child are expected to enjoy preferential policies in taxation, education of children and housing, according to a plan released by the province earlier this year.
Zhang said such measures will not be enough, as many couples will not have a second baby even if they are allowed.
Yang Wenzhuang, an official in charge of grassroots family planning supervision at the National Health Commission, said in February that China's population will drop to 1 billion by the end of the century, the same level as that of 1981.
Yang said the commission had organized a survey conducted by a third party, which showed economic pressure is the main cause that prevents couples from having a second child. Another reason is couples do not have enough time to take care of a second child, he said.
Yuan Xin, a professor of population studies at Nankai University in Tianjin, believes the decline in the number of births will become more pronounced in the next few years, with the number of women of childbearing age-those between 15 and 49-falling by about 5.2 million per year.
"A population decrease in China is an irreversible trend, even if the family planning policy is further relaxed," he said.
Yuan suggested that authorities now need to take more concrete measures to encourage births, such as building more public nurseries and kindergartens, which are lacking in many cities.