Turning 'waste' into wealth has a long way to go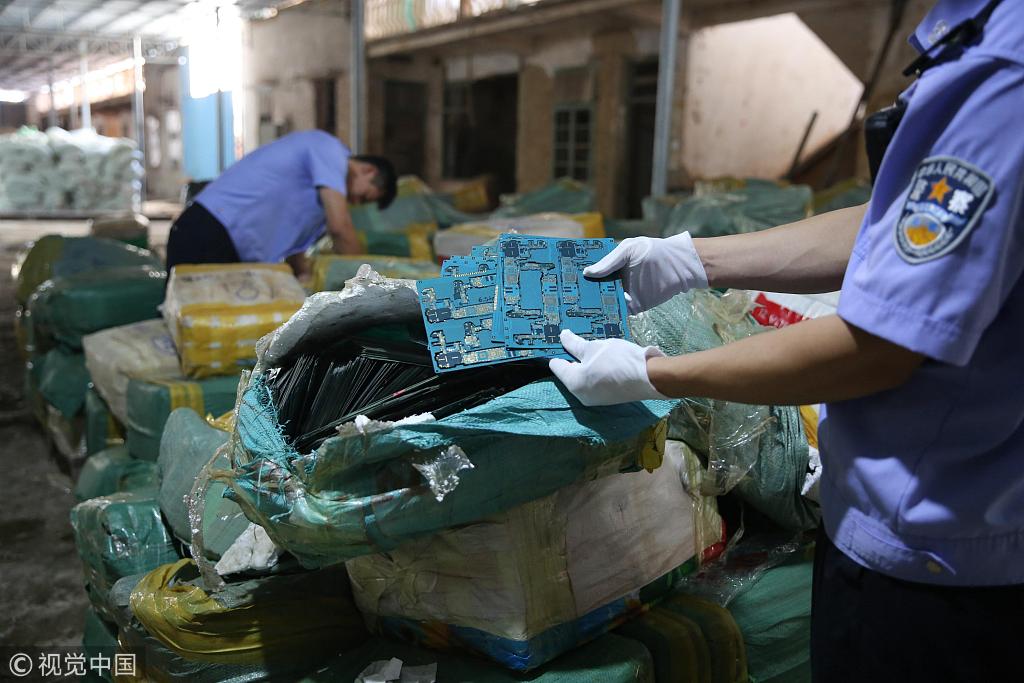 Further efforts are needed one year after China adopted a ban on import of solid wastes, reported Economic Daily.
The State Council released a document in last July, banning the imports of environmentally hazardous solid wastes by the end of 2017. The move aims to curb the threats imported wastes pose to environment and human health.
Since the beginning of this year, the scope of the ban extended to another 24 types of solid wastes, including household waste plastic, vanadium slag, unsorted waste paper and waste textile raw materials.
As one of the largest importers of solid waste in the world, China had seen rise in the imports of solid waste for many years driven by a shortage of raw materials amid the country's rapid economic development.
In 2017, China imported 43.7 million tons of solid waste, more than half of which were waste paper. A large chunk of the imported wastes ended up in small-and-medium enterprises with poor pollution control facilities, taking heavy toll on natural environment and human health.
To implement the ban, efforts were stepped up to fight the smuggling of illegal foreign wastes into China. This year, customs officers across the country busted 81 smuggling gangs and confiscated 1.2 million tons of foreign solid wastes.
Plastic industry is one of the hardest hit since the ban on imports of solid wastes was adopted, said Wang Yonggang from the China National Resources Recycling Association.
"All imports of plastic wastes will be prohibited by the end of this year, which means a complete change over the operation model of the plastic recycling industry over the past decades," said Wang.
China is one of world's largest recyclers of waste plastic, which caters to the huge demand for affordable raw materials in a country with limited oil resources.
According to Fan Yushun, chairman of plastic recycler Lianyungang Longshun Plastic Co Ltd, plastic waste imported from developed countries are favored by China's recyclers because most of them are made of raw plastics, rather than reprocessed ones, thus having better plastic performance, and also because they are well sorted, which means fewer processing costs to be invested by recyclers.
Wang Yonggang said the ban on imports of solid wastes have pushed the domestic plastic recyclers to explore new roads to stay afloat.
He said around one third of the recycling enterprises closed down, some of them have started building a recycling system at home and the others chose to build waste processing plant overseas.
Liu Jianguo, a professor with the School of Environment of Tsinghua University, said to turn the crisis of the recycling industry into an opportunity, a new development path relying on domestic solid wastes should be sought, and higher efficiency in waste classification and recycling should be promoted.
Wang said the two major obstacles impeding the development of plastic recycling industry are the lack of tax break for recycling enterprises and local governments' low awareness of the importance of resource recycling.
"In fact, China boasts the best recycling technology in the world. Provided that plastic wastes are treated in an environmental-friendly way, the plastic recycling industry will become a low-carbon and green industry," said Wang.
To promote green development of the economy, the National Development and Reform Commission, the nation's top economic planner, recently released guidelines on innovating and improving the price mechanism of waste disposal.
According to the policy, domestic waste disposal will be charged by weight, and non-classified garbage will be charged at a higher price.