Cafe run by disabled combats stigma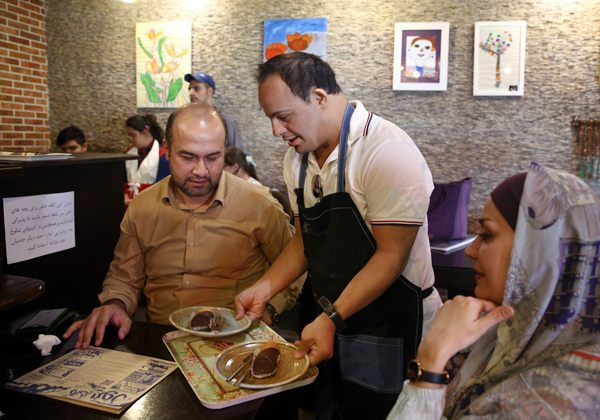 TEHERAN, Iran - Melika Aghaei's fingers move slowly across the keys of the digital piano as she softly sings a children's song to the delight of the cafe's customers, while Mehdi Khakian takes orders for espressos and lattes.
Located near the bustling Vanak Square in north Teheran, the "Downtism Cafe" stands out from other coffee shops in the neighborhood for its unique staff. All have either Down syndrome, like Aghaei, or autism, like Khakian, and run the entire operation themselves.
Opened only three months ago, the cafe whose name combines "Down" with "autism" is bustling.
"All of the people are kind and affectionate toward us," said Khakian, 31. "I invite everyone to come to our cafe and support us. I promise that we will give them very clean and perfect service when they come."
With the restoration of US sanctions that had been suspended under the 2015 nuclear deal, and the high unemployment rate, jobs are hard to come by. It's especially difficult for those with disabilities.
But the cafe not only provides work for those with Down syndrome and autism, it also shows how capable they can be, said Aylin Agahi, a 36-year-old musician who came up with the idea.
"The goal I had in mind by opening this cafe was to give these guys a role in society," said Agahi, who has taught music to people with disabilities for 17 years and led several concerts with her students around Iran. "I wanted the people to become familiar with them many people do not have enough knowledge of Down syndrome; here they get to meet them face-to-face."
From her initial idea in 2016, she was able to open the cafe on May 1 with the help of 10 of her students' families and some funding from Iran's State Welfare Organization.
Agahi arranged for a month of training with a professional barista, and the cafe started out with 10 employees. Three months later, it has 40 staff members, mostly teenagers and adults in their 20s, who work short, three-hour shifts.
They earn minimum wage, and split tips equally at the end of the month.
At 14, Aghaei is the youngest staff member. "I work in this cafe as a server," the soft-spoken high school student said. "I play the piano too."
Customer Farzaneh Heidari heard about the coffee shop on social media and gushed about receiving "excellent service".
"I am pleased to be here and see that people with extraordinary conditions are being given the opportunity to work," said the 28-year-old, who works for a pharmaceutical company. "They are doing their best to prove themselves and show that they are capable of many things if given the chance."
Associated Press