Joint efforts expected to curb dumping of waste along Yangtze River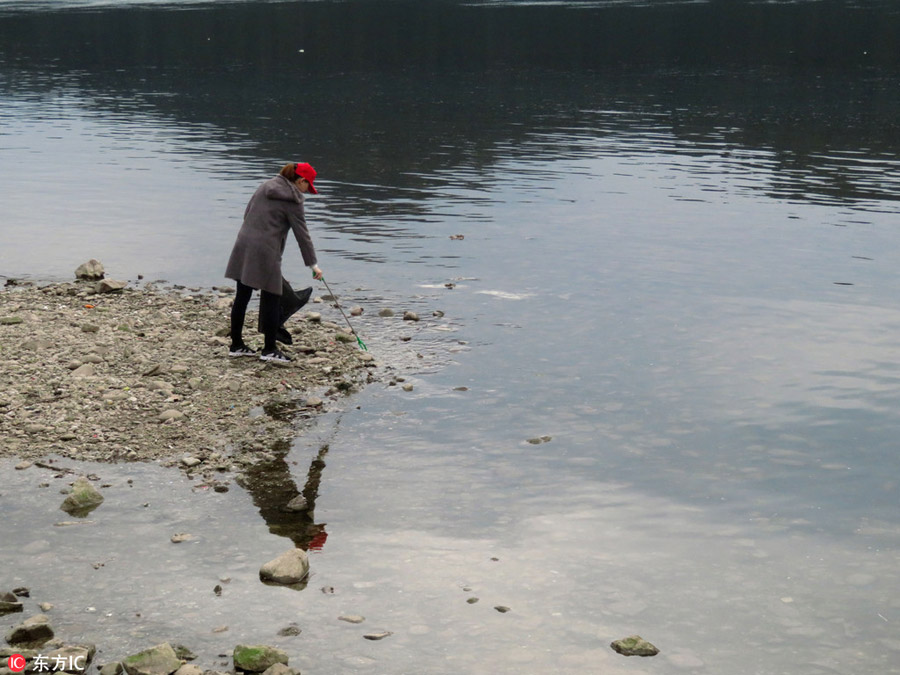 Provinces and cities along the Yangtze River should strengthen dialogue and cooperation to stop the dumping of solid waste and protect the river from pollution, an environmental official in Anhui province said.
"The Yangtze River Delta region - including Anhui, Jiangsu and Zhejiang provinces and Shanghai municipality - is working on new mechanisms to prevent the illegal practice," said Luo Hong, deputy head of Anhui's environmental protection department.
He said that from 2015 to 2017 Anhui had investigated 42 cases in which a total of 27,200 metric tons of solid waste from outside the province had been dumped along the Yangtze inside Anhui.
In late March alone, the provincial environmental protection department found thousands of tons of solid waste dumped in cities, including Chizhou, Wuhu and Tongling.
Investigations found that part of the solid waste came from neighboring Jiangsu and Zhejiang provinces. In one of the cases, more than 2,500 tons of industrial waste were transported from Zhejiang to Anhui's Tongling.
At least 41 people had been detained as of April for storing and dumping the waste.
Li Jinbin, Party secretary of Anhui, said at a conference in April that the cases "revealed that there are loopholes in our work". A monthlong campaign was kicked off in the province's five cities along the river to clear the waste.
"We now require every ship registered in Anhui to report to the local Yangtze River transport administration before setting sail, so that we know what materials they are carrying," Luo said.
It's more difficult than that for ships coming to the province from other parts of the country, Luo said.
"Some of the waste is not toxic and can be recycled, but if it is not stored properly, it may still pollute the river," he said.
President Xi Jinping stressed green development for boosting economic growth in the Yangtze River Economic Belt during a meeting in Chongqing municipality in 2016. The economic belt covers 11 provinces and cities.
Presiding over a meeting to push the development of the economic belt in Wuhan, Hubei province in April, Xi said joint efforts are needed to protect the environment of the Yangtze and he opposes misuse of the river.
The environment must be made the top priority in developing the economic belt, Xi said, adding that great attention must be paid to the work of ecological recovery and environmental protection.
In May, the Ministry of Ecology and Environment sent 150 teams to all the cities and provinces along the Yangtze economic belt for inspections to uncover illegal storage and disposal of solid waste.
By inspecting 2,796 solid waste storage areas in the cities and provinces, the teams found 1,308 problems. Of those, 91 percent had been resolved by end of July, according to a recent report by the ministry.
At a June conference of senior leaders of Shanghai and the three provinces of the Yangtze Delta region, issues related to solid waste were discussed.
Further discussion about detailed, long-term mechanisms for cooperation on environmental protection is ongoing, Luo said.
zhulixin@chinadaily.com.cn