Re-engineering the enterprises
China Reform and Opening – Forty Years in Perspective
Re-engineering the enterprises
Editor's note:Laurence Brahm, first came to China as a fresh university exchange student from the US in 1981 and he has spent much of the past three and a half decades living and working in the country. He has been a lawyer, a writer, and now he is Founding Director of Himalayan Consensus and a Senior International Fellow at the Center for China and Globalization.
He has captured his own story and the nation's journey in China Reform and Opening – Forty Years in Perspective. China Daily is running a series of articles every Thursday starting from May 24 that reveal the changes that have taken place in the country in the past four decades. Keep track of the story by following us.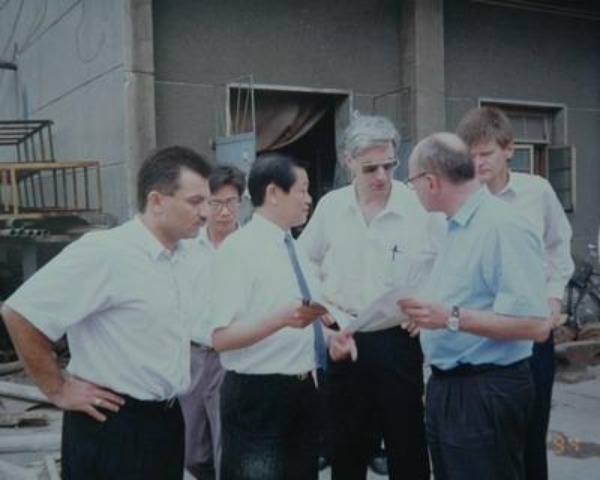 1994: As a young lawyer travelling across China negotiating joint ventures, each day I was living on the inside of a massive experiment to re-engineer China's State-owned enterprises. Every time a foreign company joint ventured with a Chinese State-owned enterprise, it meant restructuring the local partner. I spent years in factories, re-organizing enterprise management, assets, and finding creative ways to convert debt to equity.
My pet project was Power 28, a national detergent brand factory located in the center of Hubei province -- smack in the center of China. It was the archetypical State-owned enterprise. Run by a creative cadre-cum-local leader named Teng Jixin. Aside from making soap and detergent Teng launched a spectrum of side ventures from sanitary napkins, bottled water, to karaoke dance clubs and restaurants. The enterprise was burdened with uncollectable receivables and awash in debt. But like most State-owned enterprises the management was not incentivized to seek profit. Life was just about getting by, and people lived very much dependent upon the State to take care of everything. This stifled ingenuity and competitiveness: two key ingredients that would be needed for China's economy to really open and reform, moreover to compete for international markets. China needed technology, management skills and knowledge of international marketing, distribution and retailing concepts.
Joint venture negotiations often broke over how to lay-off redundant labor. Foreign capital upgraded technology, often making two-thirds of the labor force in an enterprise redundant. This was a huge headache for China's leadership as the entire socialist system during the 1950s had been constructed around the notion of guaranteed employment for all. The "iron rice bowl" was ingrained in Chinese people's psyche. Of course this was one reason for the past inefficiency of Chinese enterprises. The dilemma: how to release the commercial entrepreneurship of Chinese people without smashing the iron rice bowl?
With foreign investors laying-off Chinese labor, the government had to find creative ways to pay for it. Of course foreign investors did not like the idea of using investment to just lay-off redundant workers. Especially on the vast scale required in China. How to treat it on the books? It could not be accounted for as an investment. So an even more creative approach was needed.
The answer came during the visit to Power 28 headquarters in Jinsha, Hubei province, by Sanjay Bhandari, Asia's regional director for the Benckiser Group. He was expected at Power 28 to finalize bitter negotiations that had dragged on for months. Instead of letting him check into the hotel Teng Jixin rushed us by police car to a crossroads where a new pedestrian bridge was being opened with full ceremony and marching band. The bridge was named after Power 28 because the enterprise gave the money to build it. Teng was on the bridge waving to crowds with a big smile on his face. Teng invited us onto the bridge. Clearly he had a message to send to Benckiser. Sanjay asked what was the spectacle all about. I tried to interpret the message. "This is Teng's way of finding a solution for our negotiation impasse. Power 28 has given a bridge to the people of Jinsha. Now Benckiser must give financing to Power 28 for the workers."
Sanjay was stunned. "Is that what this parade is all about?"
"Yes," I explained. "It's all innuendo. You have to catch the gist because he won't tell you at the negotiating table. So it is up to you to figure out his meaning. That is the Chinese way."
So instead of retiring the labor, Benckiser established a second joint venture to beef up production of all Teng's other ventures – such as sanitary napkins and bottled water -- which had nothing to do with the core industry Benckiser was investing in – detergents. This was actually China's first joint venture equity investment fund. Benckiser came up with all of the capital including Power 28's own investment, and turned the whole thing over to Teng. His mandate: invest in new ventures to employ old workers.
This idea soon morphed into plans for a full blown investment fund that Benckiser would establish but turn over to the Chinese partner, Power 28 with Teng as chairman. The investment fund would be managed under Teng's leadership and would invest in new industries in order to re-employ redundant labor. News of this model, unprecedented at the time, went all the way to the top of China's policy-making apparatus and would become synthesized into later plans for re-training and re-employing redundant labor as China's massive State-owned enterprise reform would get underway in the years ahead when then-premier Zhu introduced his overarching State-owned enterprise reform program in 1998.
By the late 1980s, by handling so many enterprise restructurings, I found myself in the offices of the State Economy and Trade Commission every few days. Our experiment with Power 28 was being held up as a model for national reform of State-owned enterprises. The Power 28 equity investment fund example would become part of a nationwide plan to create re-employment for laid off workers.
On one hand, as inside counsel to major multinational corporations it was quite clear that their management was outsourcing manufacturing to China, with expectations to not only export from China but take over local brands and local market. On the other hand, I was at the forefront of pioneering experiments that would feed into the transformation of China's business and social structure. Not realizing at the time, we were on the cutting edge of a massive experiment re-engineering of China.
Please click here to read previous articles.
Most Viewed in 24 Hours
China Views