Medical researcher endured pain to help others
Share - WeChat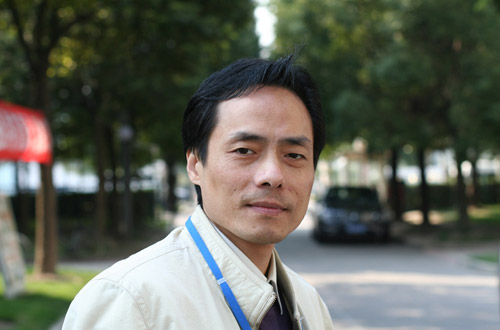 This spring, Wang Yiping, a Shanghai-based researcher who focused on new drug discoveries for 30 years, planned to fly to the United States in May to attend his daughter's university graduation.
The scientist, who in 2005 developed a new drug that has benefited 15 million coronary heart disease and angina patients in China and aspired to "invent drugs that are the first choice for doctors around the world", was found dead on April 11 in his office, near his lab, at the Shanghai Institute of Materia Medica, Chinese Academy of Sciences.
Wang, who had been running non-stop against time in his dedication to benefiting millions of patients and had fought against tremendous pains and deteriorating health, died suddenly at 55.
Near him was a syringe for a pain killer that he often used, which he kept secret from most coworkers.
Wang was diagnosed with Crohn's disease, an incurable chronic bowel disease, at 30 and underwent a surgical operation to remove a 1-meter length of his small intestine. He constantly endured severe abdominal pain, bloody stools, and fainting. Water sometimes triggered diarrhea, so he drank as little as possible, which caused kidney stones.
Wang's wife, Fang Jie, said during the past four years, parents of most of their daughter's classmates had visited their children in the US multiple times, but they never made a trip because Wang devoted almost all of his time to the lab, even on weekends and holidays.
"He said he was just at the prime age for a scientist to churn out research results. He had heard the sound of the hourglass and said he aimed to produce two other new drugs within a decade. That was what he said one week before he passed away," Fang said.
Xuan Lijiang, Wang's research partner, said Wang's ambition was for his heart drug to benefit patients worldwide suffering from cardiovascular disease, one of the top causes of death in the world.
"We have plans to promote the drug overseas and its registration in Europe has started," Xuan said, adding that the drug is an injection based on traditional Chinese medicine techniques and is the first and sole new drug accredited by the China Food and Drug Administration as "a paragon of adapting TCM to modern medicine".
The drug, depside salts, derived from the roots of salvia miltiorrhiza (danshen, a popular TCM herb) received a warm response after its market debut. Li Shuijun, a doctor at Shanghai Xuhui District Central Hospital, said the supply of the drug in its initial years often could not be guaranteed due to high demand.
Xuan said Wang had been attempting for years to change the current formulation of the injection into an oral form so that patients could easily use the medication themselves at home.
The phase II clinical trial of another new drug developed by Wang to fight against arrhythmia, or irregular heartbeat, has been completed in China and is being carried out in the United States.
Li Jun, deputy Party director of the institute, recalled Wang said in March that he suffered from pain more frequently and hormone drugs used to treat him no longer seemed to work. He suggested Wang try biologics immediately as the only remaining treatment.
"He said it was the last thing he'd like to do. It was most likely that his body gained resistance to biologics, which meant there was no other solution for him to control the disease. So he would rather double the amount of hormone drugs to gain more time to develop the two ongoing new drugs in his lab," he said.