The fruit of China's reform and opening-up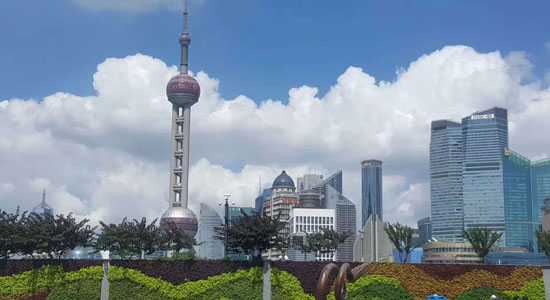 I was born six years after China's reform and opening-up began. The first time I heard the word "China" was in the 1990s when I sat in front of a mini-screen TV watching black and white Bruce Lee martial arts movies.
The second time, when my mom slapped my face for breaking a very delicate plate with blue flowers made of porcelain called "Chini", the word "China" flashed in my mind for sounding close to the name of that porcelain. I am not sure if these porcelains came from China, but I just thought it was called Chini for having a Chinese origin.
To me, China seemed to be an isolated country behind a closed door for two reasons: First, China was reeling from years of severe poverty and starvation. Although families struggled from dawn to dusk, they still lacked a morsel of bread or the means to make ends meet. Second, the language barrier between China and the rest of the world seemed impenetrable to me and could hamper Chinese interaction with the outside world.
Last week, when my guide in a museum in Liupanshui, Southwest China's Guizhou province, was explaining the difficult days Chinese people suffered as a result of extreme poverty, I was filled with an outpouring of grief. Similarly, the pictures of individuals laboring in coal mines in miserable states pasted on the walls of the museum rightly narrated the plight of the Chinese people. With people starving to death, nobody would think there was a bright future for China.
One thing I had never thought of in my life was that China would one day become the second largest economy in the world.
It goes without saying that China's rapid economic growth in the wake of reform and opening-up – initiated by Deng Xiaoping in 1978 to achieve national rejuvenation and build a peaceful, prosperous and harmonious society – was a milestone in the history of China. Coming from extreme poverty, and becoming the second largest economy within four decades is really jaw-dropping. It is hard to imagine when millions of Chinese people suffered painfully from hunger, and now its people enjoy a prosperous life as the country competes with the US in economy and trade.
The reform and opening-up policy transformed China's economy and lifted 800 million people out of poverty so far. Poverty alleviation will be accomplished in 2020, lifting all Chinese from the poverty line. China totaled 14.8 percent of the world's economy in 2016 and contributed roughly 30 percent to world economic growth since 2002.
The language barrier failed to stop China's interaction with the outside world, as last year China was the major trade partner of more than 120 countries and regions, and its import and export volumes respectively accounted for 10.2 percent and 12.8 percent of the world's total.
I never imagined I would travel to China to see its development with my own eyes. Visiting almost 10 provinces within the last five months of my stay in China, I am amazed at the tremendous progress, mega projects, smart cities, digital life and tall buildings kissing the sky. On my trip last month to Shanghai, the world's financial center and modern international metropolis, I was taken aback to see all the magnificence and advances. In Shanghai, it would never ever cross your mind that China was once one of the poorest countries in the world or people lost their lives for lacking bread.
The reform and opening-up did not only change China's economy but also changed the world's perspective toward China. Few months back, a Chinese professor aptly pointed out that when China's economy was weak, people called the Chinese "locusts" and when they spoke, people asked them to keep silent. But since China has been changed into the world's second largest economy as a result of the reform and open-up policy, people just "smile" at the Chinese while seeing them in airports. This is a perfect example of the world's perspective towards Chinese people before and after reform and opening-up.
According to Afghans, "made in China" is the most overused phrase in the world, since Chinese companies lead the world and manufacture many products. Now China's economic development has been changed into a matter of concern for the world, especially the US, which fears that China will become the largest economy in the near future.
If years ago I and millions of others like me knew China only through a single porcelain or person, now Chinese products are in each and every home around the world, including my country, and the word "China" is on the tip of everyone's tongue for the economic progress and technological advancement it has made in the past four decades. Now I believe that if anyone breaks the valuable products of China, they really deserve a slap on the face.
The author is an Afghan journalist and freelance writer based in Beijing.
Most Viewed in 24 Hours
China stories