Xinjiang rides high on Belt and Road Initiative
Share - WeChat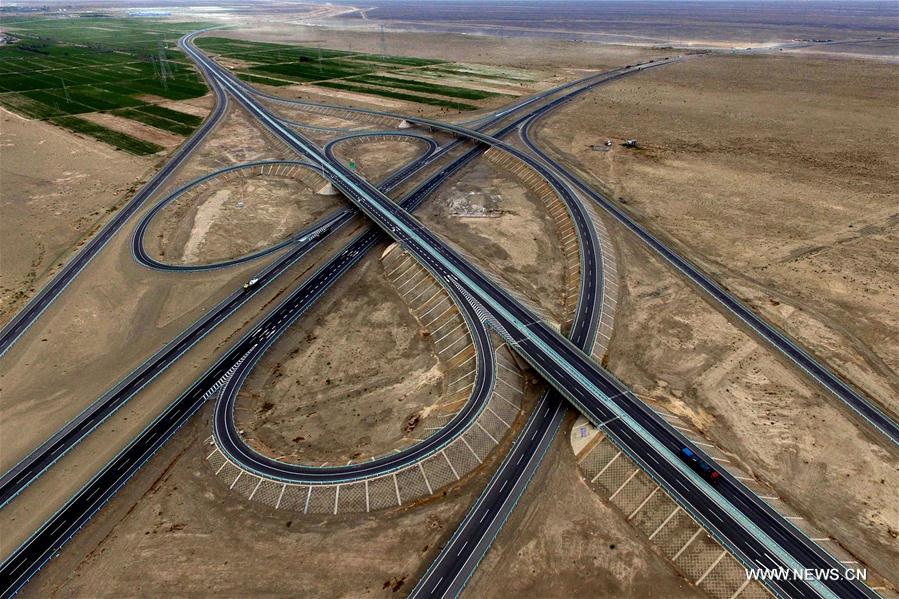 The only thing visible from the ground or air was mountains and mountains of sand. There were no roads, no houses, no trees, no water — nothing but sand. That one day there would be any sign of civilization in the middle of Gobi Desert was unthinkable a decade ago. But if there's one country that knows how to do the unthinkable, it is China.
In fewer than 10 years, China has constructed a gleaming highway in the middle of that desert that stretches 2,768 kilometers from Beijing to Urumqi in the Xinjiang Uygur autonomous region. The highway, the world's longest expressway passing through a desert, has shortened the distance between the two cities by 1,300 km.
But there's a bigger goal behind this technological feat than reducing travel time. Xinjiang is a crucial gateway for the Belt and Road Initiative, as it borders Mongolia, Russia, Kazakhstan, Kyrgyzstan, Tajikistan, Afghanistan and India. Its land border with seven countries means it is best placed to expand China's trade and ties not only with these neighboring nations, but also with Europe and beyond.
The initiative, which has already attracted more than 80 countries and international organizations, has two prongs: The Silk Road Economic Belt and the 21st Century Maritime Silk Road. The belt links China with Central Asia, Russia, Europe, the Middle East, Southeast Asia and South Asia. Xinjiang comes into play under this plan. On the other hand, the road links China's coast to Europe through the South China Sea and the Indian Ocean on one route, and China's coast through the South China Sea to the South Pacific on the other.
Globally, the China-Pakistan Economic Corridor, a port city in Sri Lanka and the high-speed railway in Indonesia are some of the biggest current projects under the initiative.
Domestically, Fujian, the launch pad of the ancient Maritime Silk Road, and Xinjiang are at the center of action.
The Beijing-Urumqi highway is part of this initiative.
Xinjiang, which the central government hopes will serve as a transportation hub and commercial, logistics and cultural center in the near future, already plays an important role in China's economic growth, as almost all imports and exports to and from Central Asia pass through it.
One of the goals of the initiative, which was first proposed by President Xi Jinping in Astana, Kazakhstan in 2013, is to boost economic growth in Xinjiang, which like the rest of the western region, lags behind other more developed parts of the country.
To reduce this regional disparity, the local government plans to invest billions of dollars in infrastructure construction, including airports, roads and railway networks. In 2017, Xinjiang invested about 450 billion yuan ($66b) in infrastructure, an increase of 50 percent year-on-year.
Last year, 700 freight trains began their journey from Urumqi to Europe. This year, around 1,400 trains loaded with goods are expected to head west. The mining sector, healthcare and tourism are some areas projected to benefit from the BRI.
By government figures, Xinjiang's economy grew 7.6 percent year-on-year in 2017. It recorded 20 percent annual growth in its fixed-asset investment and its foreign trade expanded 19.9 percent year-on-year. The region's GDP totaled 1.09 trillion yuan last year, according to this year's Government Work Report. Xinjiang's urban and rural per-capita disposable income was 30,775 and 11,045 yuan, respectively, up 10.1 percent and 9.9 percent in real terms. And its economy is projected to grow 7 percent year-on-year, with per-capita disposable income expected to go up 8.5 percent.
Xinjiang attracted more than 100 million tourists in 2017, up 32.4 percent year-on-year. They spent over 182 billion yuan last year, a 30 percent increase over 2016.
As the region borders Central Asia, it is witnessing a steady growth in medical tourism. Its hospitals receive hundreds of patients from Kazakhstan, Uzbekistan and other neighboring countries every year. With Xinjiang's medical sector beginning to play an important role in the BRI, the regional government has launched a number of initiatives ranging from attracting more specialist doctors to expanding networks for online consultation and even remote surgery.
It seems Xinjiang, once the heart of the ancient Silk Road, is prepared to play a central role in the Belt and Road Initiative.
Faisal Kidwai is a journalist with more than 18 years experience in media.
The opinions expressed here are those of the writer and do not represent the views of China Daily and China Daily website.
Most Viewed in 24 Hours
China Views