Sticking with tradition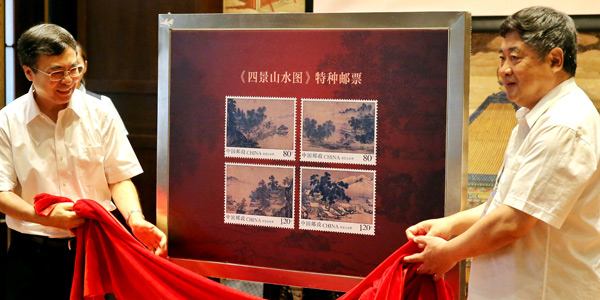 China Post and the Palace Museum jointly release a set of stamps inspired by an iconic Song Dynasty painting, Wang Kaihao reports.
There is a reason why handwritten letters have not be entirely replaced by their digital counterparts yet-postage stamps. And while they are small, they display a kaleidoscopic world. Beijing's Palace Museum, also known as the Forbidden City, and China Post jointly released a set of special stamps inspired by Landscape Across the Four Seasons, a painting that is 69 centimeters long and 40 cm wide and over 800 years old. Created by Southern Song Dynasty (1127-1279) artist Liu Songnian on silk, the painting has four sections, showing human activity and landscapes throughout the four seasons.
Shan Jixiang, director of the Palace Museum, describes the piece as a representative work of the imperial painting academy during that dynasty because of its elegant facade and technique.
"The image is centered on people," Shan says. "They look small but are vividly portrayed.
"Realistic and highly expressive approaches are naturally mixed in the artwork."