Eldercare model reflects wisdom of society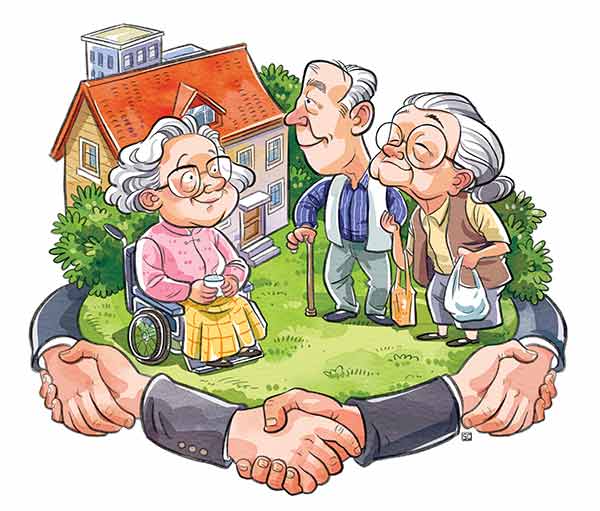 Editor's note: Living in a fast-aging society, senior citizens are coming up with new ideas to care for themselves. For instance, 13 senior citizens have chosen to live as a group (baotuan yanglao) in the suburbs of Hangzhou, East China's Zhejiang province. Four experts share their views on the issue with China Daily's Liu Jianna. Excerpts follow:
65 should be the new 60
Ge Daoshun, a research fellow at the National Institute of Social Development, Chinese Academy of Social Sciences
Emerging elderly care models, including baotuan yanglao, attest to the wisdom of a society trying to help a special group of people in a fast-aging country without enough eldercare resources. According to the Office of the National Committee on Aging, the number of people aged 60 or above is expected to reach 487 million, accounting for 34.9 percent of China's total population by 2050. Yet baotuan yanglao only suits those senior citizens who are relatively well off and fit. Which means eldercare for the poor and physically challenged remains a government responsibility.
In addition, China should promote combined medical and care services, as the biggest problem for senior citizens is accessing healthcare facilities.
Generally speaking, most senior citizens in China rely on the family and community and would not like it to be otherwise. Therefore, traditional values such as filial piety should be promoted to make sure elderly people are taken proper care of at home. And when a family is unable to provide proper care for the elderly, the community should step in and offer services such as day care, healthcare and canteen.
And while more jobs should be created for the elderly who are healthy and motivated enough to keep working, the definition of senior citizens should be changed, as the World Health Organization has said Chinese newborns may have 68.7 years of healthy life, which means they could work till the age of 65. So 65 should be the new 60.
Build an environment friendly to the elderly
Zhang Youqin, a professor at the School of Public Affairs, Xiamen University
Eldercare should be diversified enough to accommodate senior citizens from different economic backgrounds, health conditions and personal preferences.
The emergence of baotuan yanglao and special canteens for elderly people in communities are encouraging signs, because they address some of the tricky problems facing senior citizens.
But that does not mean the government should promote one eldercare model and forget about the others. Different eldercare models are needed to optimize the use of the available social resources to meet the rising and differentiated needs of the aging population.
Sensible and effective policies could address many, if not all, of the problems associated with elderly people. So the government needs to take precise and targeted measures to meet the real needs of the senior citizens. For instance, since a considerable number of senior citizens have trouble in getting proper food, the government should promote the establishment of special canteens in communities.
Besides, the government should build an elderly-friendly social environment, so as to help senior citizens to help themselves. For instance, in Hong Kong senior citizens with disability can easily get around by themselves thanks to the infrastructure design that is friendly to the physically challenged and the elderly.
The key to solving a major eldercare problem is creating an environment friendly to senior citizens, an environment that can help bring out their potential.
Most Viewed in 24 Hours
China Views