Black cat, white cat...
Share - WeChat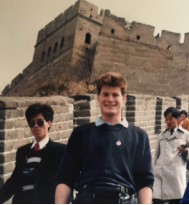 Deng Xiaoping famously said "It doesn't matter whether a cat is black or white, as long as it catches mice." This is taken to mean that as long as the economy works, it is a good economy. He spoke these words long before the reform and opening-up of China's economy, but they have become synonymous with that phenomenon.
I was about 10 years old at the time these famous policies began to be implemented. As a child, I wonder what could I have known of such economic theory? Yet in reality, I think few people could have known what this would really mean for China. Deng Xiaoping, however, could see something, and history indeed proves he was a man of far-reaching economic vision.
I always remember having an interest in China. As far as I know my family has no connection with China, but my mother must have possessed some sort of future vision herself. For instance, she would sometimes cook a delicious fried rice dish and pull out a set of ebony chopsticks for us to eat it with - I certainly appreciate her early preparation for life in China, but I did feel a little cheated after coming to China and discovering people often use spoons rather than chopsticks to eat fried rice. Another even more poignant example is of a print of a Chinese painting she hung in our house. Accompanying the floral painting is a line from the poet Luo Yin's poem, "Peony Rose". The line translates "If one would truly understand poetry and literature, oneself should be a person of exceptional beauty".
I feel this sentiment is rather fitting to describe the difficulty of an outsider trying to understand this vibrant nation, people and culture which has endured thousands of years, known as China.
One thing I can certainly grasp is the difference between the economic situation before 1978 and now. Although I first came to China in early 1991, the comparison from that time until now gives me an intimate understanding of the power of this economic progression.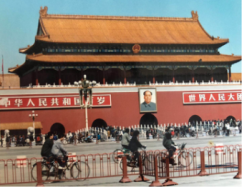 You could say I came to China by degrees. First I landed in Hong Kong which amazed me with its compact industriousness from the bustling Nathan Road to the infamous Walled City of Kowloon. The next step was by train to the border between HK and Shenzhen Special Economic Zone. Here there was construction on a citywide scale fuelled by special economic privileges and foreign investment - a rival to Hong Kong was being built. After Shenzhen, I took the train to Guangzhou and was a little overwhelmed by a throng of around 10,000 migrant workers crowded outside the train station. These were some of the many who had surged toward the Southern development with its opportunities. The people gathered there were those who had not yet found work or accommodation. Many of them no doubt are affluent business owners employing large staffs now. Finally I took the train to Beijing crossing the Yangtze and Yellow Rivers and watched the lush Southern vegetation give way to the browns of the dryer and less temperate Northern climate. That time in Beijing, the economic climate was also a stark contrast to the South. However, this China by degrees experience was about to change at a breathtaking rate.
In Beijing I visited the Great Wall, Tiananmen Square and spent considerable time wandering through the lively Hutongs. In those days, foreign visitors were aware that they were outsiders. We could only legally use "FEC" (Foreign Exchange Certificates) to purchase goods. Prices for tourist attractions were marked with two rates, one for locals and one for foreigners. Today, all people no matter where they are from have access to world-classpayment services such as Wechat Pay and Unionpay.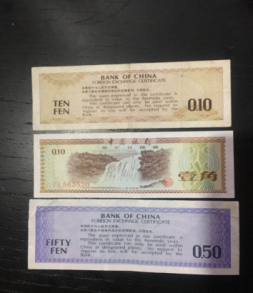 Those were the days of the Friendship Stores, special department stores only for foreigners and stocked with Western merchandise. Only foreigners were allowed in and they only accepted FEC. When I visited one in Beijing, I found they did not have much stock, but did have a lot of empty shelves. Today huge modern malls adorn every corner of every city. Online shopping in China has risen to new levels of choice and efficiency with the famous Taobao. Prompt, accurate logistics systems combined with Alibaba's safe and secure payment system make this online shopping system the best in the world by far.
I remember the homecoming rush hour of those days in Beijing was a mass of cyclists. Public transport consisted of taxis and buses and pedal cabs. Today, China's cities teem with cars, are criss-crossed above ground and below with subway and light rail systems. Cities are connected with some of fastest trains on earth. Now this mobilisation is reaching out to the world through the Belt and Road Initiative.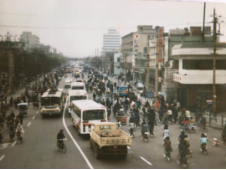 After visiting China several times in the 90s and observing the quickening pace of change, I had a break of 10 years. When I did return again in 2008, I was shocked with the image the new Shenzhen presented. This gleaming modern city that surpassed what I had recently seen in most Western cities was hard to equate with what I saw developing in the 90s.
For the past six years I have lived in China's East in Ningbo and in her West in Chongqing. I have personally witnessed more and more. China's booming economy has changed the infrastructure of its cities, the scope of its business and the its global influence beyond belief, but what does it really mean for its people? In a word, I would say "freedom". Freedom to earn, freedom to choose and freedom to roam.
While China seeks to build win-win partnerships internationally, its people are given opportunities like never before perhaps in China's entire history. I wonder if Deng Xiaoping's vision stretched this far? Perhaps we could just say: "this cat certainly knows how to catch mice!"
The author first came to China in 1991 as a tourist and since then has visited many times and has traveled to about half of her provinces. From 2012 he and his wife have lived in China, working in Zhejiang and then Chongqing.
The opinions expressed here are those of the writer and do not represent the views of China Daily and China Daily website.
Most Viewed in 24 Hours
China Views