High school grads can access university's major courses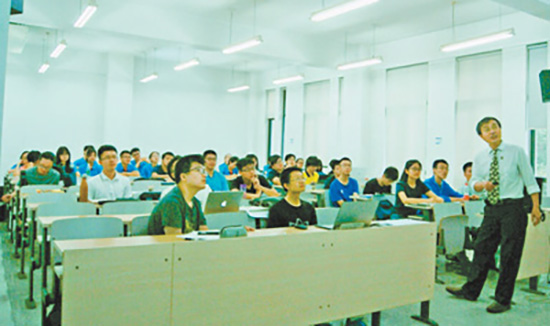 Nankai University (NKU), a prestigious institution located in Tianjin, China, gave this year's high school graduates access to major courses in its summer term, which comprised 39 out of 46 course offerings by NKU. This marks the first time for NKU to allow high school graduates to take such courses.
The move provides high school students with an early taste of education on campus and a closer look at disciplines in college, helping them find their interests and goals.
"Many classmates still wanted to know more after the class was dismissed. They would come around the professor after class and ask questions. I feel that university has higher requirements for a student's self-learning ability," said Cai Yanzheng, a student from Tianjin Yaohua High School who took a course on writing and speech in scientific contexts.
Zhao Zefang, a high school graduate from Tianjin No 1 Middle School, attended a weeklong lecture on biology. "My purpose was to learn some knowledge and I truly learned something. I felt really good during the week. It enriched my last summer vacation as a high school student. What impressed me most was the lecture given all in English. It was new to me and university students' English is better than mine," he said.
Wu Xiaojie, from Nanjing, Jiangsu province, also came to NKU to take a course on history. Dry as the theory class was, he loved history even more after the course was finished. NKU permitted nonlocal students who meet certain requirements to join courses rather than closing the door.
"I am sure that high school graduates can broaden their horizons here because university professors may have different understandings of disciplines compared with teachers in high school. Ours are of more diversity and richness," said Li Jinzheng, a professor from the Faculty of History, NKU.
High school graduates take the same courses and final exams as the university students. For high school graduates who have finished their courses and passed the final exams, NKU will issue an academic transcript. For those graduates admitted by NKU, the university also recognizes the course and the result.
Nankai University has provided free summer courses to high school graduates for five years in a row since 2013.