On a paper trail
Share - WeChat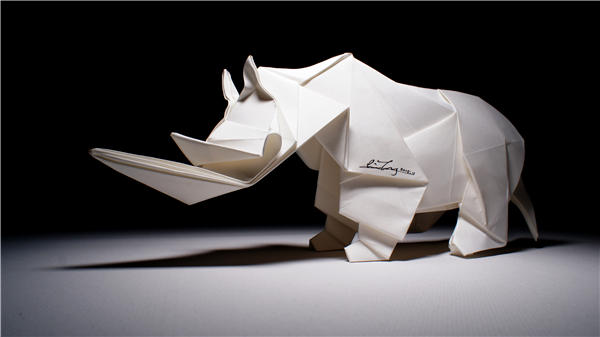 The past 12 years have seen Liu Tong grow from a beginner in the paper craft into an acclaimed origami artist.
In 2006, Liu Tong, who was then studying in Germany, saw a man on a bus make a paper rose and hand it to a stranger. And this marked the start of the then 21-year-old Chinese student's interest in origami.
Last month, Liu held his latest solo exhibition of origami art installations at the Eslite Bookstore in Suzhou, East China's Jiangsu province, where he featured works inspired by Le Petit Prince - one of the most-translated books in the world.
At the exhibition were paper versions of the little prince, the fox, the snake, the iconic rose preserved in a glass dome and a room decorated with 6,700 origami roses.
The past 12 years have seen Liu grow from a beginner in the paper craft into an origami artist.
When he began, he first looked online for simple origami instructions and diagrams to follow. Later, he tried to improve his skills by learning from the works and methods of French origami master Eric Joisel and Japanese origami artists such as Hojyo Takashi.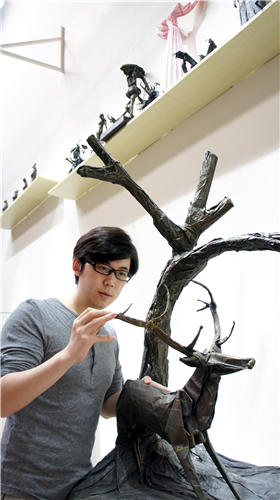 "About five years after I started to learn the paper craft, I attempted to create some original works," Liu says, recalling that his first original origami work was a paper angel made from a wrapper of a Ferrero Rocher chocolate.
He then uploaded the video of how he made the angel, which drew considerable public attention on social media like Sina Weibo, with the video being copied by numerous netizens who imitated his work.
In the following year, he created wrapper figures of the 12 Zodiac constellations, sponsored by the Italian chocolate company.
Giving his take on origami, he says: "For me, it is an art of distribution. It's about being able to use the paper scientifically," says Liu, a mechanical engineering major from the University of Duisburg-Essen in Germany.
"I use a complete sheet of square paper to create a design without using scissors or glue, and it gives me a sense of achievement when I do it."
In 2014, the year that marked the 40th anniversary of diplomatic relations between China and Africa's Gabon, Liu folded a sheet of paper (40 cm by 40 cm) into a blue and white "porcelain" piece which was sent as a gift to Gabon.
Most Popular