Blood pressure medicine recalled over impurity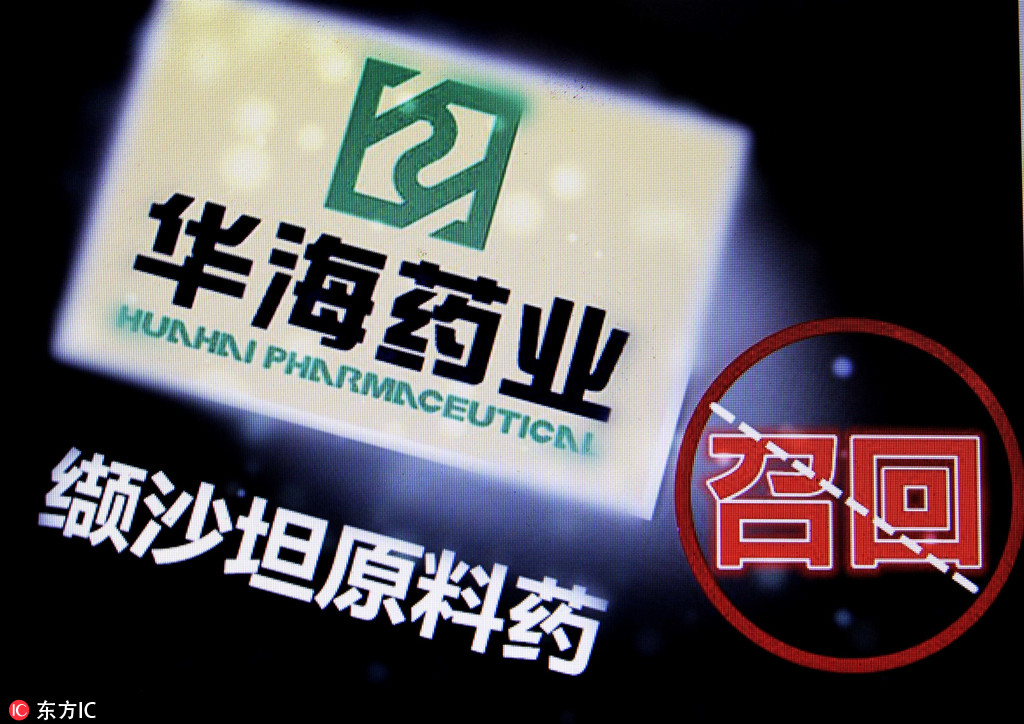 Pharmaceutical company finds possible cancer-causing agent
A pharmaceutical company in Zhejiang province has reported finding an impurity that can cause cancer in a drug it makes as an ingredient for blood pressure medications, the State Drug Administration said on Sunday. The products have been recalled.
Huahai Pharmaceutical, in Linhai, reported on July 6 that it had discovered traces of a chemical impurity called NDMA in valsartan, the active ingredient in drugs widely used to treat hypertension, the administration said. Valasartan normally contains no such contaminant.
Experiments have shown that NDMA can cause cancer in animals, but there is little evidence of a problem for humans, the administration said. The chemical is widely used elsewhere - for example, in products such as salted foods.
The administration said the presence of NDMA does not present serious health risks for patients who have used products from Huahai Pharmaceutical. However, measures must be taken to stop production and recall the involved products, it said.
Huahai immediately stopped supplying valsartan to companies in China and overseas, and launched a recall. The company completed its recall in China on July 23.
Huahai's production technique was approved by the United States Food and Drug Administration and European Medicines Agency, China's drug authority said.
The authority has inspected six other companies in China that produce valsartan, and no meaningful traces of NDMA were detected.
Six pharmaceutical companies in China produce blood pressure medicine that includes valsartan using the active ingredient made by Huahai Pharmaceutical.
One of those, Qianjin Xiangjiang Pharmacy in Zhuzhou, Hunan province, has not sold any products.
Products of the other five companies had been sold, the administration said, but they have stopped using the ingredient and are recalling affected drugs.
Drugs using valsartan sourced from companies other than Huahai need not to be recalled, it said.
Patients with high blood pressure who are taking valsartan must not stop taking the drug as doing so could bring on greater health risks than those posed by NDMA traces, it said, adding that patients can consult their doctor if they have taken any of the drugs involved in the recall. A doctor may switch to a drug made by another company.
Huahai said earlier this month that it would recall valsartan products made with the ingredient to prevent risks.