Rehabilitation centers adopting modern solutions to cure addiction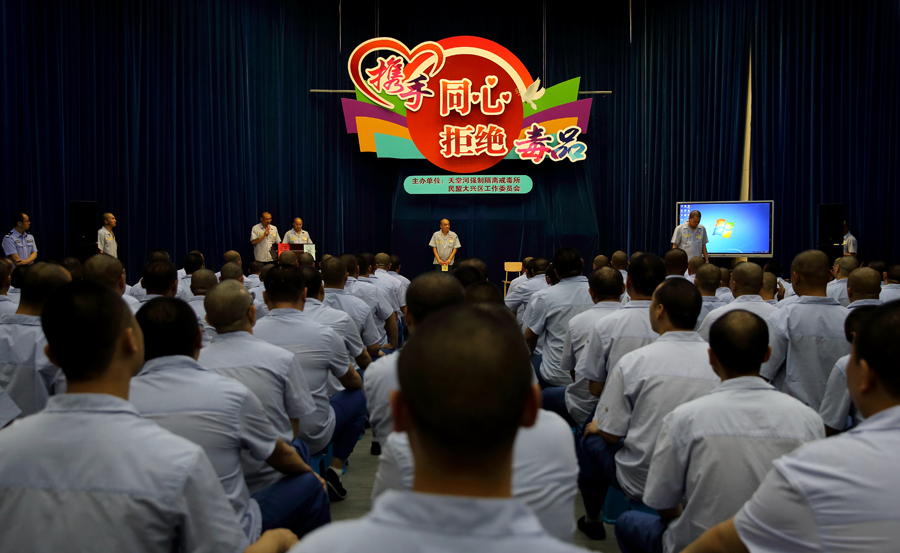 Therapy, high-tech equipment and education are at the frontline of the government's drive to help users quit drugs for good. Zhang Yan reports.
"I hate drugs because they ruined my family life and deprived me of my health and freedom," said Yang Mouxin, who is looking forward to being discharged from a drug rehabilitation center and reuniting with his family.
The 31-year-old is on the final stretch of a two-year compulsory program at the Beijing Tiantanghe Detoxification and Rehabilitation Center to wean him off methamphetamine, also known as "ice". He is set for release in early December.
When he arrived in November 2016, Yang resisted the police officers who oversee the center, and refused to trust or cooperate with them to receive treatment.
Under the influence of drugs he quickly became emotional and frenetic, but things have changed.
"I have completely changed thanks to the officers' patience and the education they provided. I am a new person," he said.
"Through the treatment I have undergone in the past one and a half years, I have calmed down and feel at peace. Now, I am capable of distinguishing right from wrong."
Yang is one of 240,000 addicts on compulsory detoxification programs in 361 rehabilitation centers administered by judicial departments across the country.
Most repeat drug offenders detained by police are required to spend a minimum of two years in these programs, according to Cao Xuejun, director-general of the Drug Rehabilitation Administration Department at the Ministry of Justice.
"While it's easy to cure their physical addiction to drugs, it's much more difficult for them to overcome the psychological need, which is essential if they are to completely abandon the habit," he said.
In addition to medical and physical therapies, the department plans to expand the use of newer and updated treatments, including a virtual reality addiction assessment and correction system and transcranial magnetic stimulation technologies that can help addicts to quit drugs for good.