US tariffs can't stop China's IP progress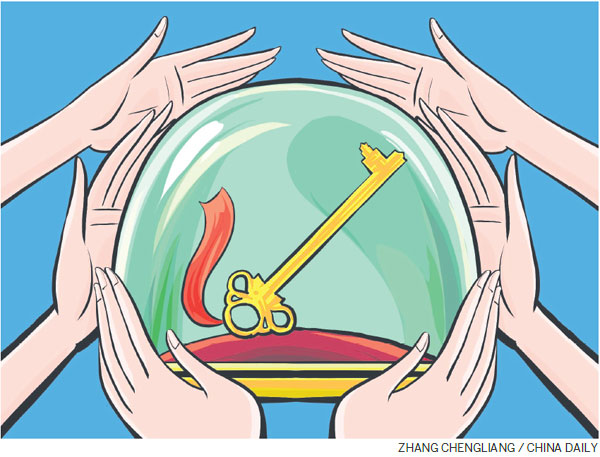 Using the excuse of protecting US intellectual property, the Donald Trump administration has imposed stiff tariffs on imports from some of its trading partners and strict restrictions on foreign companies, particularly those from China. But far from benefiting the US economy, these protectionist policies are hurting it, as well as undermining international rules on innovation and intellectual property rights (IPR) protection.
The US used to be a defender of innovation-oriented IPR protection and international rules, which are the cornerstone of economic globalization. In fact, it was the US that prompted the inclusion of IPR protection into the World Trade Organization's Trade Related Intellectual Property System despite the opposition of developing countries, claiming it was good for innovation. Since then, all countries have strictly followed one rule: to regard any unilateral investigation beyond the WTO mechanism as a violation of international rules and other countries' sovereignty. Indeed, the TRIPS-based IPR protection and transfer helped boost global innovation and stabilize the world economy.
The Trump administration's protectionist policies and investigations under Section 301 of the Trade Act of 1974 have also violated international laws and harmed the global economy, even tarnished the US' image. Since the US promised to settle trade disputes using WTO rules, it is breaking its own promise as well as destabilizing the global economy and global governance by launching the Section 301 investigations.
Moreover, on the basis of these investigations, the US, apart from imposing high tariffs on imports, has also accused China of economic aggression, "stealing" foreign intellectual property and forcing foreign companies to transfer technology to Chinese enterprises in exchange for doing business in China.
Yet surprisingly, none of the anonymous respondents, on whose statements the Section 301 report heavily depends, has been publicly cross-examined to prove the Chinese companies have forced their US counterparts to transfer technology. This is a violation of the US law, too.
The truth is, US enterprises have made huge profits through their joint ventures with Chinese companies. For instance, China was the largest market for General Motors in 2017, larger than even the US. And China did not prevent the foreign enterprises from making what they thought was the right decision on joint ventures before opting to do business in the country.
Although the report acknowledges that since 2015-when the US and China agreed to not indulge in cyber-enabled theft of IP-the number of detected Chinese cyber-espionage incidents has decreased, some US officials baselessly claim that is because the cyberattacks have become more "centralized" and "sophisticated".
Furthermore, the US has kept adjusting its IPR rules such as the requirements for IP quality and counsel fees, in order to help American companies to meet their development demands and prevent overprotection from harming innovation.
China has made remarkable progress in IPR protection, by strengthening IP laws and taking stricter action against those who violate IP laws. Besides, as a senior fellow at the Peterson Institute for International Economics said that China's payments of licensing fees and royalties for the use of foreign technology have soared in recent years, reaching almost $30 billion last year, nearly a four-fold increase over the last decade, and that China probably ranks second globally in the magnitude of licensing fees paid for technology used within national borders.
However, the US has chosen to impose sanctions to restrict China's access to advanced technology. And by trying to restrict innovation in the name of IPR protection, the US is violating every possible IP rule.
True, China is yet to shut down all the units making counterfeit products and it still has some problems absorbing foreign technology, but it has established an IP development and protection mechanism in 30 years that the Western countries took a hundred of years or more to build. China has been reiterating it is committed to protecting the IPR of patentees from home and abroad, and has made serious efforts to enhance IPR protection, which even the Section 301 report acknowledged.
As former US Treasury secretary Larry Summers told CNBC on June 27, Chinese companies' leadership in some technologies are not the result of theft from the US. Which means the US' unilateral tariffs cannot stop China's technology progress.
Wang Huaiyu is a research fellow at and vice-director of the Legislative Affairs Office, General Office, Development Research Center of the State Council, and Fan Baoqun is a researcher at the National School of Development, Peking University.
Most Viewed in 24 Hours
China stories