World should unite against US abuse of financial system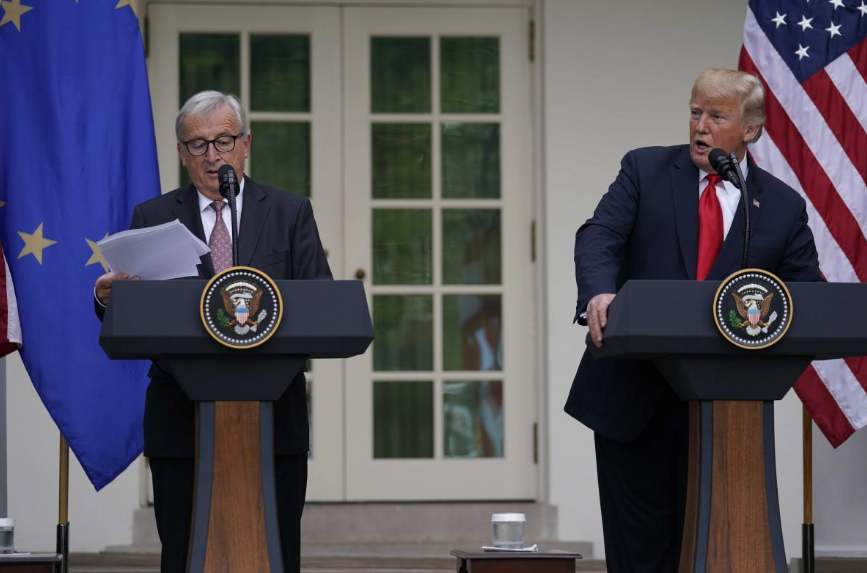 European Commission President Jean-Claude Juncker was happy on Wednesday to reach a deal with US President Donald Trump to put on hold their escalating tariff wars. Missing was a reiteration that Europe will not succumb to the US threat of an oil embargo on Iran or opposition to the re-imposition of US sanctions on Iran that was lifted after the 2015 Iran nuclear deal.
Instead, Juncker, both at the Rose Garden and the Center for Strategic and International Studies in Washington, sent a confusing signal by talking about more energy cooperation with the United States.
This was in sharp contrast to his strong message earlier that the European Union will launch the process of activating a law that bans European companies and courts from complying with US sanctions against Iran after Trump withdrew the US from the Iran nuclear deal in May. Juncker vowed at the time that his commission has a "duty to protect European companies" from US sanctions.
Despite that pledge, many European companies have already started reducing or are planning to reduce and even terminate their business related to the Iranian oil, following the US threat of financial sanctions on companies that don't stop their buying of Iranian oil by Nov 4.
Turkey seems the most determined to defy the US coercion with President Recep Tayyip Erdogan stating on Wednesday that it goes against the independence of states to cut ties with its "neighbor and strategic partner" because the US demands it.
Standing up to the US threat should not be just about protecting European companies. It is more about abiding by the principle of honoring the multilateral agreement-the Joint Comprehensive Plan of Action-that was endorsed by the UN Security Council.
The US has not only broken its promise by pulling out of the agreement, it is taking the entire world hostage by abusing the US monopoly in the global financial system.
Trump clearly believes in bullying and intimidation tactics. He sent an all-cap tweet on Sunday, saying "NEVER EVER THREATEN THE UNITED STATES AGAIN OR YOU WILL SUFFER CONSEQUENCES THE LIKES OF WHICH FEW THROUGHOUT HISTORY HAVE EVER SUFFERED BEFORE."
It was a response to a comment by Iranian President Hassan Rouhani that "America should know that peace with Iran is the mother of all peace, and war with Iran is the mother of all wars", referring to the US bid to pitch Iranian people against their government.
Trump said on Tuesday that he is ready "to make a real deal" with Iran, but Iranian officials rebuked it by saying Iran will never take part in one-side talks following US threats.
Many have speculated that Trump's latest rhetoric may be a "fire and fury" moment like his tweet threatening the Democratic People's Republic of Korea months ago that ended with a summit of rapprochement in Singapore on June 12 between him and DPRK leader Kim Jong-un. However, what's happening on the Iranian front is hardly encouraging the DPRK to reach a deal with the US, a deal that Trump could ditch anytime given his record of abandoning multilateral deals in the past 18 months.
Some believe Trump's real motive on Iran is about regime change. And such message won't be received well in Pyongyang, either.
The EU, China, Russia, Britain, France and Germany and Iran, the remaining signatories of the Iran nuclear deal, should unite and rally the world against Trump's unilateral sanctions on Iran.
Juncker and Trump also talked on Wednesday about the reform of the World Trade Organization, but what's urgently needed is a reform of the global financial system so that no hegemonic power can abuse it.
The author is a columnist at China Daily.
Most Viewed in 24 Hours
China Views